What is the Minimum Credit Score for a Home Loan?
How does your credit score compare to the average in Australia? Want to apply for a home loan? Find out how to get a home loan with a bad credit score.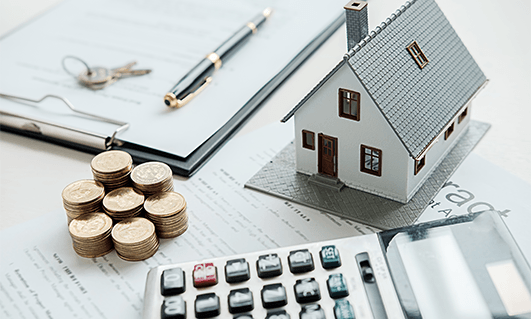 Successful home loan applications take a considerable amount of thought, including income, savings, employment, age and credit history. Your credit score is a major factor in impacting your chances of approval, the interest rate of your loan and the deposit that is required.
When applying, understanding your credit score is important to know what kind of loan products best suits your needs and your current financial situation. Australians with a lower credit score shouldn't be disheartened as there are opportunities for every credit score range to apply for loans.
In Australia, lenders have differing standards when it comes to credit scores when applying for a loan. This means that there is not a standardised credit rating criteria needed to apply for a home loan, however, there is an average that lending providers look for before accepting an application.
Average scores in Australia are usually between 500 to 700, while below-average credit scores are considered unfavourable to some home loan lenders. However, smaller specialist lenders may be willing to provide support.
In this way, it is challenging to define the minimum credit score required to get a home loan as most lenders in Australia don't make their credit criteria public and use different calculations to determine loan eligibility.
Credit bureaus have benchmarks that can be used as a guide for individuals to check their credit score to see if they qualify or if they are in a lower score bracket.
Credit score below 625: Although it is unlikely that individuals with a low credit score will be able to qualify with the big banks or lenders for a home loan, there are still opportunities to find lenders to assist. Unsecured loans from a second hand lender are a viable option for this minimum credit score home loan.
Credit score from 625 to 699: Usually, a credit score in this range is considered a risk to mortgage lenders as it is related to negative lending aspects in credit history. This could mean trouble finding a loan or plan with a low interest rate and may result in a larger deposit than other options.
Credit score from 700 to 799: Securing a personal loan with this credit score will be quite easy. However, a larger deposit may be required if taking out a large loan amount with a bank or big lender.
Credit score from 800 to 899: Considered a good credit score. The majority of lenders would be willing to consider applications of this score and is generally considered creditworthy.
Credit score from 900 to 1,000: This is one of the highest credit score ranges, making borrowers in this score much more reliable and likely to get a loan. This credit range may also be entitled to lower interest rates
In regards to different states, the approach to credit score ranges is similar, however, a score that is considered good or bad in Sydney may not be good enough for an area such as Perth or vice versa. Statewide house price falls and rises also play a part in if a loan is accepted or declined.
With these ranges in mind, it may be disheartening at first to know that a lower credit score is difficult to initially get a loan with. Even with a bad credit score it is still possible to get a loan from providers but this may come at a cost.
As outlined above, a below average credit score is usually less than 624 meaning you are on the lower end of the credit-active population and are more likely to have volatility in the future. It is important to realise that there are ways that you can improve credit score and harmful habits to avoid so don't be discouraged.
Below average - 0-549
Average - 550-624
Good - 625-699
Very good - 700-799
Excellent - 800-1000
Below average - 0-505
Average - 506-665
Good - 666-755
Very good - 756-840
Excellent- 841-1,200
Zero score - 0
A low score - 1-299
Room to improve - 300-499
Average - 500-699
Great - 700-799
Excellent - 800-1,000
ClearScore gets credit reports from Experian where you will receive a full comprehensive credit report and financial history to assess your current financial situation and credit score.
With a bad credit score, the first thing to be mindful of is that bigger lenders are extremely unlikely to consider your application due to the volatile nature of your financial history. But just because qualifications for the bigger lenders are difficult to reach does not mean they are not achievable.
If you are in the position of wanting a home loan but you have a bad credit score it most likely means you will only be eligible for specific home loans from lenders that will have significantly higher interest rates. In Australia, there are providers that specialise in mortgage products for people with bad credit scores.
Applying for a home loan may also depend on other factors including your application. Just one factor lenders consider when determining your application is your credit history while also taking into account income, expenses, employment and the amount that is being requested for the loan.
Australian providers are legally required to lend money responsibly, meaning it is illegal to lend money if the request is unreasonable when assessing an application. This means taking into account if an applicant will be able to make the repayments. Lenders can decline or reject loan applications based on overdue or missed payments on your credit report, defaults or even a bad credit history. Each lender is different in the way they assess these criteria as small overdue payments hold less weight than larger ones.
Having a bad credit score is not the end of the world. Your credit score is a measure of your financial health and if the minimum criteria for a home loan is not met just know that, there are ways to improve a credit score over time.
Some strategies for improving credit scores include:
Managing a financial plan with savings - it is important to organise your regular expenses and establish a budget so that bills don't pile up and become overwhelming.
Paying bills on time - consistently making punctual payments contributes to a stronger credit score as positive credit reporting (like making repayments) can also be listed on credit reports.
Automatic payment methods - considering automatic methods to pay potentially smaller bills is a great way to stay on top of potentially unopened mail or emails.
Settle outstanding debts - showing capability to pay off outstanding debts may improve credit score.
Consider if applying for credit with certain lenders is right for you - denied credit applications also appear on your credit report. Make sure you pick the right lender so you don't have to repeatedly apply for credit.
Don't apply with someone who has bad credit - applying with another person may be a good idea at first but if they have a bad credit score it may hinder the chances of loan approval.
Over 600,000 Australians carry a high risk of credit default meaning a likelihood of home loan rejection. However, bad credit home loans or non-conforming loans assist people with a poor credit score or history in achieving their home loan dreams. Some providers will tailor personal loans to an individual's credit score like ClearScore's personal loans to ensure better deals for specific credit score ratings.
Specialist bad credit home loan lenders are more willing to lend to those who have impair credit but with other terms and conditions that may apply. In most cases, the lenders will need to be offset and take a higher depository value from the individual wanting a loan and may offer a prime mortgage rate later if their credit score improves.
---
Lloyd spreads the word about how awesome ClearScore is.