Check your credit score today
Check your score and get tips to improve it. It's free, forever.
See your score
ANZ Rewards Black Credit Card Review: Is the BNPL Card worth it?
Considering taking out a credit card but not sure if it is right for you? Read on to find out the costs and benefits of taking out a card and the best offers for you.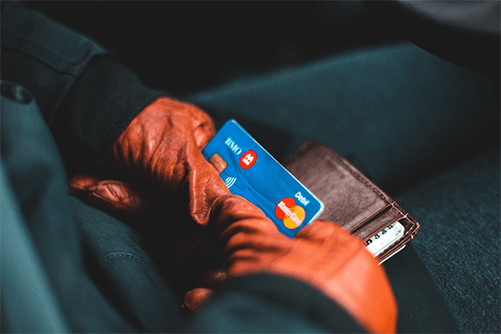 ---
Check your credit score today
Check your score and get tips to improve it. It's free, forever.
See your score
---
The job of a credit card is to allow you to borrow money to spend now and pay it back later. But there are certain credit cards that also offer additional benefits like the chance to earn cash, loyalty points, or frequent flyer points or receive extended warranties and purchase protections when you make large purchases.
ANZ Rewards Black card, ANZ Frequent Flyer Black card, and ANZ Platinum credit card are some of the popular options Buy Now Pay Later (BNPL) cards that you can use to earn points and reap the benefits of the rewards program.
Here's what you need to know about ANZ Rewards Black Card:
ANZ Black Rewards is a rewards credit card by ANZ that offers you the maximum ANZ Reward Points earn rate. Earn rate is the number of points a cardholder receives for every dollar spent on purchases eligible for earning points.
With this card, you get a $15,000 minimum credit limit, and are charged a standard interest rate of 20.24% p.a. However, if you pay off the outstanding in full each statement period, you also enjoy up to 55 interest-free days on your purchases. It also gives you the maximum flexibility as you get to decide whether to redeem your Reward Points for shopping rewards, air miles, or cashback.
You can even add up to 9 additional cardholders at an annual fee of $65 per cardholder.
Reward Points are perks credit card companies offer to credit cardholders for using their card. Every time you swipe your card and spend money, you get points for spending.
For every dollar spent on eligible purchases up to $5,000 every statement period, this ANZ credit card offers you 2 points. Every dollar spent above $5,000 earns you one point. You can check your rewards point balance on the ANZ Rewards website.
A majority of daily purchases qualify as eligible purchases. However, the following transactions don't count as eligible purchases and you don't earn any points for them:
Payment of interest charges, fees, cash advances, balance transfers;
Payments for goods, services, charges, and/or levies made to a local, state, or federal government or statutory bodies or any other charges/fees/penalties paid to the government,
Gambling or gaming transactions; and
Refunded or reversed transactions
Once you collect enough points, you can redeem them for vouchers, air miles, or merchandise.
With the ANZ Rewards Black card, you receive access to a host of complimentary ANZ travel insurance policies, including:
International and Domestic Travel Insurance;
Interstate Flight Inconvenience Insurance;
Rental Vehicle Excess in Australia;
Transit Accident Insurance when travelling on a plane, tourist bus, train, or ferry paid for with your credit card;
Extended Warranty Insurance, where the warranty of products is extended by 12 months past the manufacturer's warranty end date;
Guaranteed Pricing Scheme that entitles you to receive the difference as a refund if the price changes within the first 90 days; and
Purchase Protection Insurance
You also enjoy higher cashback offers at multiple retailers once you join the Cashrewards Max program and link your ANZ Rewards credit card. Cashrewards is a complimentary program through which you can earn cashback when you shop with 1700+ brands including Apple, THE ICONIC, Uniqlo, and Uber Eats.
To avail ANZ rewards, you should meet all the other offer eligibility criteria as may be prescribed and shouldn't have opened or closed other ANZ cards (such as ANZ Rewards Platinum, ANZ Rewards Travel Adventure, or an ANZ Rewards credit card) in the past 12 months.
If you spend $2,000 on eligible purchases within the first three months of becoming a cardholder, ANZ rewards you with 80,000 points. The points are credited to your account as soon as you hit the spending limit.
These points can be redeemed for:
A $300 gift card that you can use to shop from a number of retail outlets such as Endota Spa, JB Hi-Fi, Myer, and many more; or
$320 cashback that can be credited to any ANZ bank account or you can use it for settling your ANZ Rewards credit card dues or; or
Airlines miles of airline partners such as Virgin Australia, Air New Zealand, Cathay Pacific, and Singapore Airlines, provided you are a member of the relevant airline program
Round the clock protection against fraud
A personal concierge who can help you plan your travels and confirm your bookings
Ability to transfer balances from non-ANZ credit to your ANZ credit card for managing your dues
Easy integration with e-wallets such as Apple Pay and Samsun Pay and devices such as Garmin
Unlimited ANZ Reward Points on certain eligible purchases
You are eligible for ANZ black card if you:
A citizen or permanent resident of Australia or New Zealand, or have more than nine months left on your visa;
Have a good credit score; and
18 years of age or above
To redeem the points accrued on your ANZ card online, follow the steps below:
Visit the ANZ Rewards website
Log in using your email address and password.
View your Reward Points balance displayed at the top of the page
Reward options will be displayed on the main menu. Browse through the options available
Click on a particular reward to know more about it and view the Reward Points needed
Click on 'Redeem Now' to begin redemption
Alternatively, you can get in touch with the ANZ Rewards Centre helpline on 1300 367 763, to redeem the points. The helpline is functional Mon to Fri from 8 AM to 8 PM.
Remember that all Reward Points earned on ANZ credit cards should be used to claim a reward within 36 months of every calendar year in which you earned them. Any unused points will be cancelled after that.
As a primary cardholder of various ANZ rewards credit cards, you are allowed to pool in your Reward Points. However, you cannot do it with other members of your family or friends who also hold credit cards from ANZ.
If you cancel ANZ credit card, any unused Reward Points should be used within 90 days of the date of closure. Unused points after that period will be cancelled automatically.
The ANZ Black Rewards card will cost $375 yearly in annual fees and when you use the card for purchases overseas (including online shopping from an overseas business), you have to pay 3 percent of the transaction value as an additional fee.
You will also pay a higher interest rate on purchases than other ANZ cards, making it an unsuitable pick if you prefer minimum repayments over a long period. So make sure that the perks and benefits of ANZ reward redeem actually justify the cost.
You can always compare other credit cards ANZ offers and pick one that suits your needs the most.
But before you even apply for an ANZ Rewards Black credit card, you should do a free credit score check with ClearScore to ensure you are in fact eligible for the card and do not end up with a rejection.
---
Doug loves to work with lenders to get ClearScore users the best deals