Check your score
See your credit score in minutes and get tips to improve it. It's free, forever.
See your score
Corporate credit cards
Find out what a corporate credit card is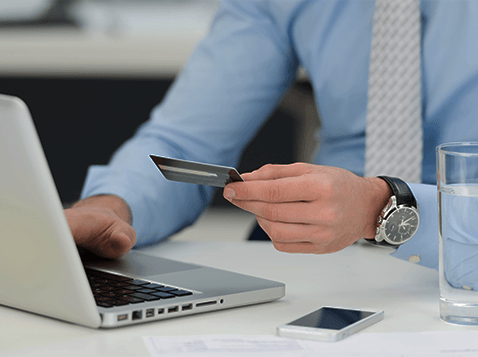 ---
Check your score
See your credit score in minutes and get tips to improve it. It's free, forever.
See your score
---
Cash flow management is at the heart of any business. Tracking various expenses incurred by employees as part of carrying out business for the company and collecting receipts/ invoices can take a toll.
Companies looking for a convenient way to handle authorised business expenses that don't involve employees having to pay in cash or use their cards can consider corporate credit cards. This article discusses everything you need to know about them, including what are the pros and cons of these credit cards.
A corporate credit card is provided by a business to its employees to pay for business-related expenses. Usually, the card is issued in the company's name, and the name of the employee appears on the card as the designated cardholder. Similar to a personal credit card, the employee has to sign at the back of the card.
Company credit cards for employees are an efficient way for both the employer and employees to incur expenditures on behalf of the company. The employer can set limits and classify the type of transactions an employee can make using a company card. The employees can directly charge to the card without having to dip into their own funds to pay for company-related expenses.
Often, employees have to incur various expenses during the course of performing their job. This can include paying for hotel accommodations, booking flight tickets, or dining with clients. When a company issues company credit cards for employees, they make it easier for the employees to pay for these expenses without having to use their personal credit cards or cash.
Similar to personal credit cards, a corporate credit card can be used online and over the counter. All payments charged to the employee credit cards show up in the company's credit card statement, which helps businesses to track and manage spending.
There are two main categories of corporate cards:
Individual liability cards
The cardholder (employee in this case) is liable for paying the charges while using a credit card for business expenses. The cardholder can then report the charges to the employer to receive reimbursement.
And as an employee, do you get credit checked for a company credit card? Yes, the credit score of the employee is considered by the credit card company for processing the application.
Corporate liability cards
Such cards put the responsibility of making the payment of all approved charges on the company. However, if the employee misuses the card or carries out any unauthorised transactions, the company doesn't have any obligation to pay.
Such cards are only issued based on the company's credit history and credit score. The employee who uses the card has minimal responsibility for repaying the credit card charges. As a result, their credit score is not taken into account.
There are two critical differences between a corporate card and a regular credit card:
Special departments of a credit card company or bank handle the issuance of corporate credit cards. A person is assigned to manage the entire corporate credit card business of a company.

The liability of using a corporate credit card is different from a regular one. While the individual cardholder is on the hook for repaying debts incurred on their credit card, the company is responsible for repayments of debt incurred on a corporate credit card.
Apart from corporate credit cards, business credit cards are another product in the market that can be used to pay for business expenses.
Business credit cards are suited to small or medium-sized businesses that may not fulfil the eligibility criteria for getting corporate cards. Business owners holding business cards can also decide whether they want to assume individual liability for such cards or have joint liability with other partners. The credit card company considers the personal credit score of the business owner to determine the creditworthiness of the business.
In contrast, corporate credit cards are for large organisations that have a huge annual turnover. The liability of such cards also rests with the company as a legal person. Unlike business credit cards, credit card companies only review the credit history of the company instead of the owner or founder.
Here are the key corporate credit card benefits that make them an attractive option for companies:
Simplifies management of finances
One of the crucial benefits is that it makes it incredibly easy to track and manage payments. By issuing employee credit cards, you can give employees access to credit that they can spend as required for business expenses. You can impose limits on the spending to control the type of purchases an employee can make as a business expense.
It also helps you to streamline and speed up travel and expense management.
Attractive rewards program
A vast majority of company credit cards reward points for every transaction. They also offer a variety of perks such as lounge access at leading domestic and international airports, dedicated concierge service, and free travel insurance.
You can permit your employees to benefit from the rewards points awarded and redeem them.
Here are a few downsides of getting a company credit card:
All companies may not fulfil the eligibility criteria
Corporate credit cards are primarily marketed to satisfy the needs of established businesses in the market.
Most company credit cards have strict eligibility requirements, such as significantly high turnover every year and a good business credit score. It may not be possible for startups or small businesses to satisfy them and apply for company credit cards. Moreover, the application process is often lengthy and involves financial audits, which may be cumbersome to comply with.
Significant risk of falling prey to credit card fraud
The fear of becoming a victim of massive credit card fraud is real when you have issued company credit cards to several employees. The card details of an employee can be stolen by fraudulent means, and simply directing the employees to be careful about their cards is not enough. Given the weak privacy laws, it is incredibly easy to obtain card details even without getting access to the physical card.
As is the case with every card program, corporate credit cards for employees attract a variety of fees. You can expect to pay an annual fee for the service alone, along with an extra fee per card issued to your employee. The exact fees vary depending on the bank you approach.
You also need to pay interest on the expenses if the debt is not repaid within the specified period. Additionally, you need to bear fees for any international transactions and foreign currency conversions.
Not every company in the market is eligible to apply for a corporate business card. They need to fulfil the minimum eligibility requirement as follows:
The applicant should have annual revenue of $4 million
There should be at least 15 users in the company
The company should have existed for at least 12 months and should have been registered as a C corporation or S corporation.
The applicant shouldn't be carrying out operations as a sole proprietorship
The estimated amount of total credit transactions every year should be at least $250,000
The credit card company may request audited financial statements and incorporation documents to decide whether the applicant is eligible to open a business credit account and get corporate credit cards for its employees.
Like any credit card, company credit cards affect credit score. The effect a corporate charge card has on your score depends on the card type and who has an obligation to make the repayments.
If you work for a small business and have been added as an authorised user on a small business corporate credit card, it is similar to being authorised to use someone's credit card. Even though you do not have any direct obligation to repay the expenses, your personal credit score may get hampered depending on how your company handles the finances. If they delay or default in making repayments, your credit score may decrease.
On the other hand, if you have an individual liability card where you can get reimbursed for business expenses you charge to the corporate card and repay, your credit score may improve, provided you maintain a good repayment record.
Now that you know how corporate cards work, consider whether your business will benefit from getting one and whether you fulfil the eligibility criteria.
Weigh the pros and cons carefully before you roll out a corporate credit card policy. Before you approach a credit card company, ensure that both your business and the employees have a solid credit history.
With ClearScore, you can check credit scores and get access to free credit reports. Take a look and get started.
---
Lloyd spreads the word about how awesome ClearScore is.