Get your free credit report
See your credit report and score in minutes. It's free, forever.
See your score
Illion Credit Score
Find out everything you need to know about Illion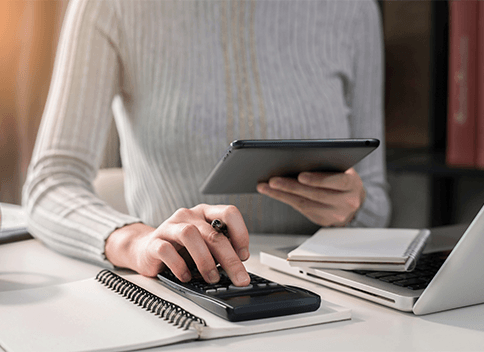 ---
Get your free credit report
See your credit report and score in minutes. It's free, forever.
See your score
---
Before credit providers or financial institutions approve a new line of credit, they conduct credit checks to understand the risk profile of the borrower. Running a credit check involves reviewing credit reports of borrowers prepared by credit bureaus and credit scores.
A vast majority of lenders rely on Illion credit score and reports in Australia to determine eligibility of individuals.
Let's take a look at everything you need to know about Illion and how Illion credit checks can impact your score.
lllion (formerly known as Dun & Bradstreet) is one of Australia's top three credit reporting agencies. It is owned by a Sydney-based PE firm called Archer Capital. In 2014, it became the first credit rating agency in the country to implement comprehensive credit reporting.
It collects the credit history of businesses and individuals from various credit providers, and uses the information to prepare a credit report. Illion Australia also uses its proprietary algorithm to calculate the credit score of individuals, to help lenders assess the creditworthiness of applicants quickly.
Apart from providing credit reports and credit scores, Illion offers Illion Direct to businesses, which is a risk management tool that uses credit scores to predict the chances of a customer failing to make timely payments.
Your Illion credit report contains various information about your personal credit history. Here's what you can expect to find in your report:
Personal identification details such as your name, date of birth, gender, present residential address, name of your current or past employer, and your driver's licence number
Hard credit checks which include types of credits you have applied in the past
Type of credit accounts in your name and when you have opened and closed them
The credit limit available on each credit account and details of the credit providers
Snapshot of repayment terms of various credit accounts
Your repayment history, including any defaults/ date on which you have repaid the defaulted amount
Details of court judgments in relation to credit extended to you
Details of bankruptcy proceedings or personal insolvency agreements
Details of credit providers who have conducted Illion credit checks
Any other consumer credit information that is publicly available
Details of any creditor who believes that:
you attempted to obtain credit through fraudulent means or
evaded your payment obligation through fraudulent means or
had no intention to comply with your repayment obligations since you have failed to repay even after the lender took the necessary steps to contact you
Since Illion follows comprehensive credit reporting, how long positive and negative information stays on your credit report can vary. For instance, your monthly repayment history of various accounts stays for two years, whereas any information relating to filing for bankruptcy stays for five years.
A score between 500 to 699 is considered a good score.
Illion credit score range varies from 0 to 1000. A high score indicates a lower credit risk and improves your chances of receiving approval for a credit product.
According to Illion, a good score shows that your Illion credit file has no significant negative information. You can also have a score falling within this range when Illion doesn't have enough information about your credit history.
Here is what the different ranges of Illion credit score indicate:
| Credit score range | Illion | Indication |
| --- | --- | --- |
| Excellent | 800-1000 | Usually, borrowers who have a long credit history have a score within this range. It indicates that they have consistently paid their bills/loan instalments on time and are disciplined when managing their credit. |
| Great | 700-799 | It shows that even though you may have a few credit inquiries on your file, you have overall maintained a good repayment record. |
| Good | 500-699 | It shows that you have a good Illion credit score and you are likely to get approved for most applications for new credit. |
| Room for Improvement | 300-499 | Scores in this range do not always signal a negative credit history. If you are a young borrower with a relatively shorter credit history or you have applied to lenders who lend to high-risk borrowers, you may get a score in this range. |
| Low | 1-299 | You may have defaulted on repayments and/or made several loan/credit card applications resulting in numerous hard credit inquiries. |
| Zero | 0 | It indicates that you have no credit history. |
To access Illion free credit report and check your credit score, you can follow either of the three steps below:
Log on to the Illion website and place a request;
Fill up the Application for Personal Credit Report to receive a copy of the report via email; or
Call 1300 734 806
When requesting your credit report, you also need to provide supporting documents to verify your identity, such as:
A copy of your driver's licence/passport/birth certificate; and
Copy of utility bill or bank statement
Note that you are entitled to receive a free copy of your report only once every year. Alternatively, you can also sign up with ClearScore, to access your free credit report along with recommendations on how you can improve your credit score.
Credit score Illion is calculated based on information reported by various credit providers and financial institutions. Once the data is collected, Illion applies its scoring algorithm to arrive at the final number. If you have a good track record of paying your dues on time and managing your credit responsibly, you are more likely to score higher.
According to Illion, here are the key factors that can adversely impact your credit score:
Defaulting on loan/credit card repayments
Paying bills after the scheduled date
Spouse or partner defaulting on a joint debt
Applying for too many credit products
You don't have to remain stuck with a bad Illion credit score forever. Here are some tips to improve your credit score:
Review your credit report regularly
Your Illion credit report is prepared based on information reported to the agency by various lenders. There is a possibility that wrong information may be recorded. A common example is your report showing outstanding dues even though you have already repaid the loan.
So keep reviewing your Illion Australia credit report periodically to rectify the errors.
Failing to pay credit card dues, loan instalments, or other bills on time can result in a poor credit score. Set up payment reminders and auto-debit instructions on your account to ensure you don't miss any.
Set a spending limit on your credit card
Having a credit card doesn't mean a free pass to spend. After all, you need to repay your dues eventually. Racking up debts and not paying them on time can lower your score.
Start by establishing a budget for your credit card and make sure you don't exhaust your credit limit completely. In fact, you should set a spending limit to keep your credit utilisation below 30 percent of the total credit limit at all times.
Don't apply for credit cards or loans if you don't need them
Every time you apply for new credit, the lender initiates a hard credit check. Even though a single hard inquiry doesn't affect your credit score, multiple queries in a short time can reduce your score.
So, apply for credit only if you need it.
If you compare credit scores, you may notice discrepancies between Illion credit score vs Equifax, or Experian score.
As every credit reporting body uses its own credit scoring model and a proprietary algorithm to calculate the scores, variations are expected.
Moreover, since every agency relies on the information that is provided to them and not all lenders report to all the three agencies, your credit history can look different depending on which agency's credit report you check.
Here's a breakdown of the rating scales and scores of different agencies:
| Band | Experian (on a scale of 1000) | Illion (on a scale of 1000) | Equifax (on a scale of 1200) |
| --- | --- | --- | --- |
| Excellent | 800-1000 | 800-1000 | 833-1200 |
| Very Good* | 700-799 | 700-799 | 726-832 |
| Average* | 625-699 | 500-699 | 622-725 |
| Fair* | 550-624 | 300-499 | 510-621 |
| Low | 0-549 | 1-299 | 0-509 |
| Zero | cell | 0 | cell |
Great in case of Illion, Good in case of Illion, *Room for Improvement in case of Illion
The lender you plan to apply to may conduct credit checks through Illion to evaluate your creditworthiness. Now that you know what information shows up in your credit report and how credit score is calculated, make sure that you check your Illion credit report periodically to see where you stand.
A high credit score from Illion can improve your chances of getting approved for various credit products.
You can also instantly get free credit score reports from ClearScore and check credit score. Take a look.
---
Lloyd spreads the word about how awesome ClearScore is.