Check your personal loan offers
Get a loan personalised to your score and finances.
Check your offers
A Guide to Green Loans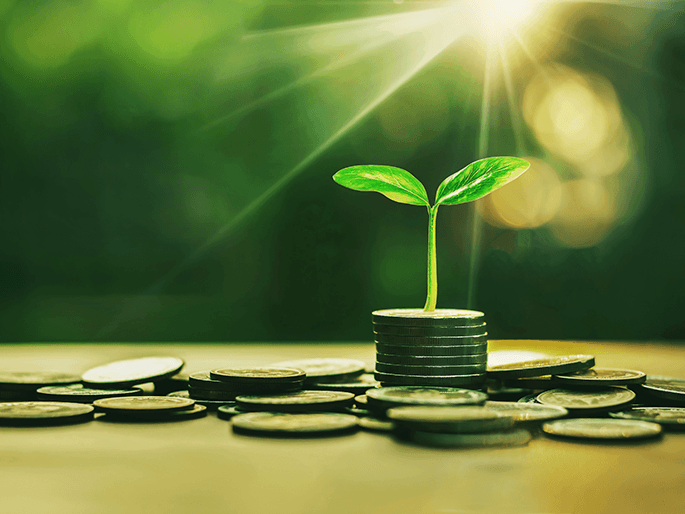 ---
Check your personal loan offers
Get a loan personalised to your score and finances.
Check your offers
---
Wondering what a green loan is, what it can be used for and what sets it apart from a standard personal loan? Find out more about this new type of personal loan with our handy guide to green loans. Explore their benefits and disadvantages, and learn more about what you should be looking for in a green loan.
Green loans, also known as green personal loans, are a type of finance that is provided to a borrower on the proviso that the sum lent is used to purchase environmentally-friendly products. Approved environmentally-friendly products are generally defined by the lender and may vary between financial institutions.
Although lenders often have their own guidelines outlining what their green loans can and can't be used for, most can be used to purchase products that help to improve water or energy efficiency, reduce pollution or decrease your reliance on traditional energy sources. Lenders may use criteria such as star ratings and other measures of efficiency to determine which products may be purchased using a green loan.
Approved products may include:
Solar panels
Solar battery systems
Solar hot water systems
Insulation
Water tanks
Greywater systems
Energy-efficient appliances
Double glazing for windows
Eco-friendly vehicles
If you're unsure whether the products you have in mind can be purchased using a green loan, it's best to chat with your prospective lenders to ensure they meet their approval criteria.
Green loans operate in much the same way as a regular personal loan. The borrower applies for finance from a lender and the lender assesses their application before deciding whether to lend a sum of money or not. In general, the main difference between the two types of loans is their purpose. Personal loans can often be used for a variety of purposes, while green loans may only be used for the purchase of approved environmentally-friendly products.
Much like standard personal loans, the terms of green lending do vary between lenders. Before you settle on a lender, it's important to weigh up the differences of each financial product to ensure you find the best green loan for your needs.
There are several benefits of choosing a green lending option. Some of the popular include:
When compared with standard personal loans, lenders tend to apply a lower interest rate to green loans, helping to incentivise the purchase of environmentally-friendly products. If you were already thinking of taking out a personal loan to purchase products to make your home and lifestyle more environmentally friendly, a green loan may be an option to consider. As with any financial product, however, it's important to compare loans carefully to find the best choice for your personal needs.
Reaping the rewards of efficient products sooner
Environmentally-friendly products, such as solar panels and energy-efficient appliances, can offer great benefits to your hip pocket over time, but the initial purchase can put a dent in your bank balance. Using a green loan allows you to purchase environmentally friendly products and start enjoying their benefits sooner while paying off the balance over several months or years.
While there are plenty of positives associated with green loans, there are some potential disadvantages that accompany this option. Some drawbacks include:
Although standard personal loans can be used for a variety of purposes, green loans can only be used for items that have been approved by the lender. If you are looking for a flexible loan option, a green loan may not be for you.
Fewer options on the market
As green loans are still quite a new concept in Australia, there are fewer lenders currently offering the financial product. There are quite a few options available, from some of the country's big banks to smaller credit unions, but you may find that your usual lender may not provide a green loan option.
Eligibility for green loans will vary between lenders. As a general rule of thumb, however, most will require borrowers to be over 18 years of age and an Australian resident. Borrowers will typically need to outline how the loan will be used for environmentally-friendly purposes.
Yes, green loans are available in Australia. A number of lenders across the country currently offer green loans, including credit unions, banks and other lending institutions. As with any financial product, it's a good idea to explore your options to ensure you find the best green loan for your situation.
Searching for the best financial product for your needs can be difficult, especially when you're considering a type of loan that you may not be overly familiar with. To make comparing green loans simpler, there are few things to note of. These can include:
Much like a standard personal loan, it's important to compare the interest rates that accompany each of the green loans you may be considering. Interest rates vary from lender to lender and can influence just how much you'll pay throughout the loan term. Investigate whether the lenders you're interested in typically offer fixed interest rates or variable interest rates. Fixed interest rates will remain the same throughout the life of your loan, offering some certainty around how much you'll pay, but won't allow you to take advantage of more competitive rates. Variable interest rates may be fixed for a period of time before reverting to a rate set by the lender. This type of interest rate can be good if the market is competitive but may see you pay more if interest rates rise.
It can be quite difficult to accurately compare green loans, especially when interest rates, loan terms and fees can vary so greatly between lenders. Comparison rates, however, make it easier to compare different loan products. A comparison rate takes several factors into account, including the loan principal, the interest rate, applicable fees and charges, the loan term and the repayment frequency, to generate a new percentage rate that better reflects the true cost of the loan.
Simply put, loan terms are the amount of time you have to pay off the amount that you borrow. For green loans, loan terms can vary greatly depending on the lender and how much you borrow. If you were to borrow a smaller sum, you may have several months or years to make your repayments, while larger loans will typically have a longer loan term that's up to seven, or even 10, years.
Minimum and maximum borrowing limits
Lenders have the freedom to set minimum and maximum borrowing limits. While this is all well and good, it can limit your choices, especially if you have a specific purchase in mind. Before deciding on a lender and a loan product, ensure that they allow you to borrow an amount of money to suit your needs.
Much like interest, the fees you pay throughout the life of a loan contribute to its total cost. From application fees to any applicable monthly fees, it's important to find out exactly what you'll be paying at each stage of the loan.
Flexibility of repayments
If you prefer to pay off your debts as early as possible, it can be a good idea to ask your prospective lender whether they allow early repayments. Some lenders charge fees for paying off the remainder of your loan early, which can add to the total cost of your loan.
Depending on the lender and how much you intend to borrow, you may have the choice between a secured loan and an unsecured loan. Secured loans are guaranteed with an asset, such as your car, which will allow the lender to recoup the money you owe if you are unable to meet your repayment obligations. With the backing of an asset, this type of loan tends to have lower interest rates. On the other hand, unsecured loans do not require any form of security. They may have a higher interest rate but do often have a simpler application process.
---
Lloyd spreads the word about how awesome ClearScore is.