Debt Consolidation Calculator
A debt consolidation loan might be right for you. Check out a debt consolidation calculator before you start.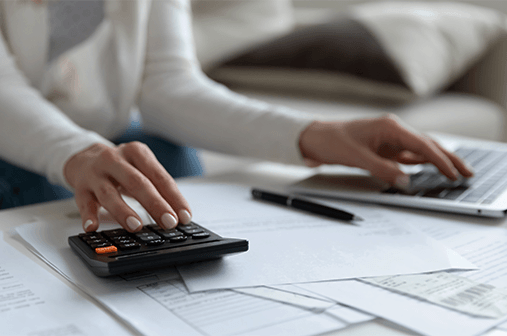 Having multiple loans and credit cards can also mean multiple debts piling up quickly, making it incredibly hard to stay afloat.
A debt consolidation loan is a loan that allows you to move all your debt (such as personal loans, credit cards, and store cards) into one place.
This means you will have one big loan to cover the amount of your current debt, rather than having several little ones. You will then, usually, only have to make one monthly repayment and in theory, your debt might feel easier to manage.
Such loans are typically extended by banks and credit unions but specialised debt consolidation service companies are also available to provide these services. As debt consolidation maximises the chances of a debtor paying off, lenders are willing to extend such loans.
But keep in mind that availing a debt consolidation loan will not wipe off the original debt. If you are looking for debt settlement or debt relief, you may have to explore other options.
Typically, there are two types of debt consolidation loans available in the market:
Secured loans that are backed by collateral such as any real estate or car of the borrower
Unsecured loans that are not backed by any assets.
Due to the lack of collateral, unsecured debt consolidation loans may be harder to obtain and lenders may charge an unusually high rate of interest. Plus, they may also add additional qualifying criteria such as having a steady and minimum monthly income to cover their risks. Some lenders pay off loans on behalf of the borrower, while others disburse the loan proceeds so the borrower can make the payments themselves.
Even though a debt consolidation loan puts all your debt in one place, it is not always the cheaper option. It will only save you money if you're able to get a loan that beats the cost of what you're currently paying.
Use our consolidation loan calculator to work out if you could decrease your monthly payments and save money overall by consolidating your debt.
To use the calculator, simply input details about your current loan/s:
Left to pay: the amount you still owe
Interest rate: the interest rate on your current loan (you can find this in your loan contract, or log in to your online account to check)
Monthly payment: how much you pay each month
You can then add the details of a new consolidation loan:
Length (months): the length of the new loan in months (the longer your new loan, the less you'll pay each month, but your overall savings will likely be less)
Interest rate: the interest rate of your new loan
We'll then calculate your new monthly payments, so you can see if you'd be better off. We'll also tell you how much you'll save in interest overall.
Bear in mind that these numbers are rounded and are intended as a guide only. They also assume that you won't be charged any charges for moving your debt from one lender to another (e.g switching fees or early repayment charges). Always check the small print to see what applies to you.
What is the easiest way to consolidate debt?
Availing a debt consolidation loan is the easiest way. Apart from that, here are a few ways to consolidate and pay off your debt:
Balance transfer credit card: This can be used for transferring credit card debt to a balance transfer credit card where you can make interest-free payments for a specified period of time.
Home equity loan: Based on the equity in your home, you can take a loan to pay off other debts.
Debt management plan: If you don't want to take out a loan, apply for a new card, or dive into your savings account, a debt management plan can be useful.
You can enlist the help of a credit counselling agency to make a single monthly payment to cover off various unsecured debts included in the plan. This is not a loan. It is merely a repayment plan to simplify the repayment process so that you take a lesser amount of time to get out of debt.
Can I consolidate all my debts into one payment?
You can consolidate your entire debt into a single payment using a debt consolidation loan and structure the EMIs. This helps as you don't have to keep track of multiple EMIs or worry about attracting penalties when you miss one.
Do debt consolidation loans hurt my credit score?
As lenders perform a hard inquiry to review your credit report as part of the application process, you are likely to notice a slight dip in your credit scores when you apply for a debt consolidation loan. However, this is only in the short term. If you continue on-time payments on the loan and don't run up any new debts, your score will bounce back.
Can I use my credit cards after debt consolidation?
Even though there are no restrictions on using your credit card after debt consolidation, it is best to use them only during emergencies till your debt is repaid. If you are using them, make sure to pay off balances in full so that you don't incur additional interest and end up with more debt, forcing you to explore debt consolidation options again.
What are the advantages of debt consolidation?
The biggest advantage is that you can streamline all the outstanding debts into a single loan and pay it off at a lower interest rate. This will help you save money and also aid in paying off the debt faster. Moreover, since you are not making multiple payments, chances are that you will make the payments on time and maintain a high credit score.
---
Nidhi spreads the word about how awesome ClearScore is.