7 Tips To Save You Money This Christmas Season
Discover seven of our favourite money saving tips for this Christmas season!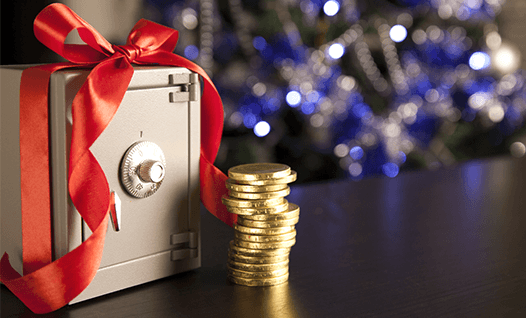 Christmas can be an expensive time of year, especially if you'll be hosting lunches, dinners and drinks, buying gifts for your extended family, and attending several seasonal events. There are, however, some simple ways to save some money this Christmas season. Read on to discover seven of our favourite Christmas saving tips.
You may have grand plans for Christmas, but your bank balance may not always agree. So, before starting any Christmas shopping, sit down and plan out your expenses for the next few weeks and months. This will give you a better understanding of what you can and can't afford to spend. Once you know how much you can realistically afford to put towards Christmas, break this dollar amount down further into food, gifts, events and any other seasonal expenses you may have.
It's all well and good to set yourself an initial budget, but it's also essential to keep track of your spending as you go to ensure you're not overspending in one or more areas. You might choose to do this with a spreadsheet, an app, or simply logging your spending in a notebook. Choose a method that's easy for you to use and provides the financial visibility you need.
Making lists isn't something just for Santa this Christmas. Taking the time to think about what you need to purchase in the lead up to Christmas helps to ensure that your spending stays on track and that you avoid any unnecessary impulse purchases. Having an idea of what you need to purchase can also make trips to the supermarket and shopping centre more streamlined and less stressful.
In the lead up to Christmas, you might like to think about creating lists of:
Groceries, broken down by meal or event
Gifts, divided by recipient and budget
Events you'll be attending, such as Christmas parties, dinners and other celebrations in the lead to Christmas, and any associated costs
Even though you might ordinarily be able to stick to a budget, the costs of the festive season certainly come thick and fast. While it may not necessarily help you save money on Christmas gifts or food, spreading out your spending to the months and weeks ahead of Christmas can make managing these additional expenses a little easier.
Start your gift shopping well in advance, tackling a few gift recipients at a time. Not only does this allow you to put ample thought into each gift, but it also gives you plenty of time to get your gift shopping done. This approach can also work well when it comes to shopping for groceries and drinks too. Think about buying any frozen items and non-perishables in the weeks leading up to Christmas, leaving just fruit, vegetables, bread and other perishable goods closer to purchase closer to the big day. Most drinks, whether they be soft drinks or alcoholic beverages, can also be bought well ahead of time, helping to reduce the financial strain closer to Christmas.
There are plenty of different traditions associated with the festive season, but it doesn't mean that you need to follow them all if you're wanting to save some money. One of the easiest ways to save money on Christmas gifts is to float the idea of Secret Santa gifting for your family or friend group. Instead of needing to purchase gifts for each person, you are instead assigned just one recipient and a specific budget to work with. If there are a few children in your family and all the adults agree that they don't want or need anything, you might also opt for kids only gifting.
If you're on a tight budget or simply don't want to spend most of your Christmas in the kitchen cooking, you may also want to consider a non-traditional Christmas lunch. Instead of turkey with all the trimmings, a laid back BBQ with sausages, salads and your favourite sides could be an option to consider. Roast chicken or beef could also be a good alternative if you still want a baked meal without the expense of a turkey. Think about your family's favourite foods, and you may very well discover some great budget Christmas lunch ideas too. Christmas is about spending time with your family and friends, so don't be scared to make your celebrations your own.
The cost of a Christmas lunch can quickly add up, especially if you're planning to host your extended family and friends. Instead of buying everything needed to fill your guests' bellies, ask them to bring a plate of food, whether that be a salad, a dessert or some nibbles. Not only does it help to lift some of the financial pressure of catering for you, but it also allows your guests to bring along sides and snacks that they enjoy. Be sure to take some time to plan out what you'll ask each guest to bring so you don't end up with more salads or desserts than you'll need.
It's fair to also ask your guests to bring along their drink of choice. While soft drinks and juices aren't overly expensive, the cost of alcohol can quickly add up.
Gifting doesn't need to blow the budget, especially if you already have some DIY skills. Whether you're a keen baker, gardener or crafter, there are plenty of great budget Christmas presents you can make on the cheap. Bake some delicious festive cookies and treats, propagate a new plant or two, or take some time to make a unique work of art. There are plenty of great places to gain inspiration, with Pinterest, YouTube and Instagram home to an assortment of cheap Christmas present ideas with a DIY flair.
Building out a list of all the items you plan to gift your friends and family for Christmas, the Christmas decor you want to purchase, and any other expenses can be great for helping you stay on budget. There are, however, some ways you can get more bang for your buck. Taking some time to compare prices offered by different retailers online and in-store while also looking for the latest deals can see you save money on Christmas gifts, decor and more. It does take some time to do, but you may be able to find some fantastic savings. Online coupons and cashback sites are other great options for reducing the total cost of your shop. With a little time and effort, you can find a good deal on everything from cheap Christmas decor to cheap Christmas gift ideas.
It also pays to compare the specials and offers available at different supermarkets leading up to Christmas. Make your way to each retailer's website and look at the latest catalogues to find out what deals are available for that week. Look for any items on your Christmas grocery list, and if they're on special or available at a better price than you've seen previously, it's a good time to shop for them. While it may only be a few dollars here and there, in the lead up to Christmas, it'll soon start to add up.
---
Lloyd spreads the word about how awesome ClearScore is.