Check your credit score today
Check your score and get tips to improve it. It's free, forever.
See your score
Is a Credit Card Fee Ever Worth It?
Thinking about taking out a credit card but worried about the fee? Read on to find out if the pros can outweigh the cost for you.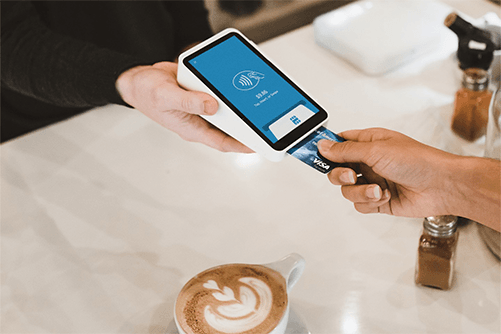 ---
Check your credit score today
Check your score and get tips to improve it. It's free, forever.
See your score
---
Deciding which credit card is right for you can be a minefield, especially when some cards carry an annual fee of several hundred dollars. If you're wondering whether a credit card fee is ever worth it, we've unpacked all the details of what you're getting for your fee, so you can make an informed decision.
Most credit cards with perks and rewards carry an annual fee. From frequent flyer miles and lounge passes to movie tickets and entertainment discounts, pricing up the value of these features to your personal circumstances can help you establish whether a fee is worth it. If you travel a lot, lounge passes might be a must-have for layover comfort. If you have high expenses and want to make sure you're getting a frequent flyer mile kickback from your bills, a points-earning card might be worth the fee for you.
The key is pricing up what each of the items would cost you if you were to pay for them separately, or the value they're equivalent to in the context of your lifestyle. If your annual spend is going to earn you enough to take $2,000 worth of rewards flights, a $300 annual fee doesn't look so bad. Equally, though, if you don't spend much and will only rack up a few thousand points each year, paying for that privilege could be money down the drain.
In exchange for your credit card annual fee, you may also get certain features and benefits. Many credit cards in Australia come with certain insurances, including payment protection insurance and travel insurance. If these policies align with your existing needs, you could save yourself money by replacing your existing cover with the ones provided by your credit card. Remember to always check the PDS to ensure you're covered!
You may be looking at credit cards as a way of consolidating multiple debts or reducing interest on another card. When you transfer an existing balance to a card with a 0% interest period, you may be able to smash down the balance faster without racking up interest that derails your progress. In this instance, calculating the cost of the annual fee against the interest you'll save by consolidating will help you establish whether it's worth it.
As an example, if you're transferring a balance of $10,000 from a credit card with an interest rate of 19% to a card that's interest free for 12 months, you'll need to explore whether the annual fee of the new card plus the balance transfer fee (usually around 3% of the balance) is less than the interest you'd pay on your old card. In this case, the original card would have cost you $1900 in interest. Transferring to a new card with an annual fee of $225 and a 3% balance transfer fee at $300, you're still saving $1375 over the course of the year.
Note: balance transfers should be approached with caution. Remember to check the revert rate at the end of the interest free term, and consider the impact to your credit score.
Many of us use credit to spread the cost of larger purchases. This behaviour can actually be a smart way to manage your finances, providing you're keeping up with your payments. But which is better? Buy Now Pay Later services, or credit cards?
Ultimately it depends on your personal circumstances and spending habits. It all comes down to keeping on top of your payments, and choosing the service that best aligns with your pay off plans. BNPL services like Afterpay, Klarna and ZipPay can charge hefty late fees if you miss their repayments, which are usually at set intervals across a number of weeks. Credit cards, however, give you more flexibility on how you pay back the balance. Plus, with BNPL services, you're limited to what you can use them for, unlike credit cards which give you far more personalised control.
---
Emma wants to help you build a life you love within your means, and teach you how to optimise your finances to ensure you're stashing cash for the future.