ZipPay vs AfterPay
Buy Now Pay Later (BNPL) has become leading payment platforms. Find out what the difference is between ZipPay and AfterPay.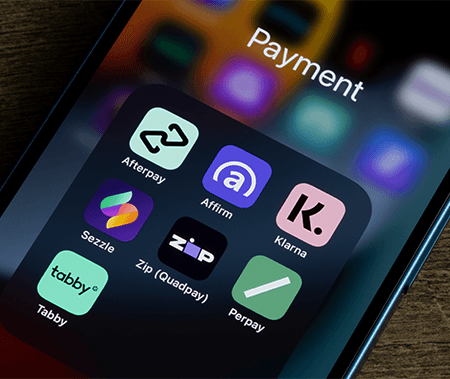 Buy Now Pay Later or BNPL has changed how lending and payment industries function across the world. A type of short-term financing, BNPL permits customers to make a purchase and repay it interest-free later. Key BNPL players in the Australian market include Humm, AfterPay, Affirm, Zip Pay, and Klarna.
This article highlights the key differences between ZipPay vs AfterPay and their impact on your credit score to help you choose.
ZipPay is a BNPL service offered by Zip Co, a financial technology company based in Sydney. Zip Pay sign up in Australia is free, but you should meet the following eligibility criteria:
Be at least or over 18 years
Be a permanent resident of Australia or an Australian citizen
Should have a verified PayPal, Facebook, or online banking account.
Have a good credit score
Have a verified mobile number and email address
As is the case with BNPL service providers, Zip Co has agreements with several merchants in Australia. These Zip Pay merchants permit customers to pay with Zip Pay during checkout. There are approximately 26,000 Zip Pay partners across the country and including several big brand names selling a variety of products. You can check out Zip Pay's website to find out where you can use Zip Pay.
Merchants receive the payment upfront from ZipPay, and ZipPay, in turn, recovers the money from the customers.
Let's take a look at how apps like ZipPay work.
When you sign up for your Zip Pay account, you are assigned a daily spending limit of up to $350 to $1,000. Once approved, you can make payments using your ZipPay account to purchase goods and services up to the available credit limit. You can pay both offline and online.
The payments are interest-free. You also get to decide your repayment schedule and choose from a weekly, monthly, or fortnightly frequency. However, you need to make a minimum repayment of $40 every month if you opt for a customised schedule, except when your outstanding is less than that.
ZipPay also charges a monthly account-keeping fee if you don't pay off your outstanding in full. Failing to pay the minimum amount due by the specified due date attracts a penalty of $5. If any payment request is rejected by your bank, Zip Pay charges a $15 dishonour fee to your Zip Pay account.
Does using ZipPay affect credit score? Yes, as ZipPay conducts credit checks when you apply to open an account. This is a hard credit pull. Zip pay also reports missed payments or payment defaults to credit reporting bodies. Since such information appears as part of your credit history, it can reduce your credit score.
Using ZipPay for business, businesses get full payments from their customers upfront. Zip Pay money merchants don't have to pay any setup fees. Zip Pay only charges one fee for every transaction. And the more the number of transactions, the lower the total fee.
Similar to ZipPay, AfterPay is another popular BNPL service. It is offered by AfterPay Limited, an Australian financial technology company headquartered in Melbourne. AfterPay users should fulfil the following eligibility criteria to avail of the BNPL features:
Should be a resident of Australia
Should be 18 years and above
Should be reachable on an email address and mobile phone
Hold an Australian credit or debit card in their name
Shouldn't be barred by law from undertaking legal obligations
Once you get approved to open an AfterPay account, you need to download the AfterPay mobile app. If you want to use AfterPay to shop in-store using your digital wallet, you will also need to set up the AfterPay Card through the mobile app. You can add the card to your Apple wallet or Google Pay. There are approximately 55,000 AfterPay merchants across the nation. Businesses can set up AfterPay merchant applications, for both online and in-store, to receive payments from their customers upfront.
The credit limit of your AfterPay account depends on your usage and varies between customers. If you demonstrate responsible usage, AfterPay can increase the limit after some time. However, the limit can be lowered if you have a track record of making late payments or missing payments. Typically, AfterPay has a cap of $1,500 per transaction.
When you use AfterPay, you need to pay 25 percent of the purchase amount upfront. For the rest, you can set up payment plans. You can structure them into four payments, due every two weeks, with the total amount payable over six weeks. If you fail to make the payment by the due date, AfterPay will automatically deduct the money by charging it on your credit card or debit card.
While AfterPay doesn't charge any interest, you need to pay the penalty for late payments. Moreover, if AfterPay charges your credit card to recover the dues, you may also need to pay the penalty should you miss paying the credit card bill by the scheduled date.
Does AfterPay affect credit score? According to AfterPay, it doesn't conduct any credit checks when you apply. As a result, there is no impact on your credit score. However, it reserves the right to report your payment activities to credit reporting agencies. Therefore, if you miss payments or make late payments, your score can come down.
Let's take a look at the differences between AfterPay vs ZipPay
| Factor | AfterPay | ZipPay |
| --- | --- | --- |
| Interest rate | None | None |
| Repayment tenure | You get six seeks to repay | You need to repay within one month from when you receive the statement. If you don't pay the outstanding amount by the given due date, an additional fee applies. |
| Breakup of instalment | Over two weeks, you can pay four instalments but you must pay 25 percent upfront. Upfront payment can be waived, but only you are Mint and Platinum. It can also be waived if you hold select eligible Pulse account. | Here are the available payment schedules: You can customise the schedule and decide how much you want to pay. If you don't pay by the due date, you need to pay an additional account fee. The minimum amount payable is $40. There is a smart schedule that can help you calculate the overall repayment amount. There is also a fee waiver schedule available. Here, the monthly balance gets automatically paid, and you avoid paying any additional monthly fee. |
| Late payment penalty | Minimum late fee is $10 for a purchase price of $40 and below. If the purchase price is between $40 and up to $272, late fees cannot be capped at 25 percent of the total purchase price. For purchase prices above $272, the maximum late fee is capped at $68. | A $5 fee applies if you fail to pay the minimum amount due every month. It kicks in 21 days past your due date. |
| Credit limit | Begins at $500. Based on your spending behaviour, it can increase or decrease | Can be anywhere between $350 to $1,000. |
| Credit score requirement | No credit check is performed when you apply. Usually, AfterPay doesn't report late payments to credit reporting bodies. | ZipPay may perform a credit check to evaluate your repayment capability. It is also possible that they may report your repayment history to credit reporting bodies. You should make sure to check your credit score before applying for it |
| Ongoing fees | No AfterPay monthly fee payable | A monthly account fee of $7.95 applies depending on which repayment schedule you opt for and whether you pay by the due date. |
| How to sign-up | You need to use the app to sign up | You can visit the website and sign up |
Make sure to look at the differences between ZipPay and AfterPay closely before you decide which one you should sign up for.
In the battle of ZipPay vs AfterPay, there is no clear winner as each has its pros and cons. Whether you should opt for AfterPay or ZipPay depends on what type of repayment plan you are comfortable with and how much credit limit you need.
Also, keep in mind the monthly fees you need to pay for your ZipPay account should you fail to clear off the dues in full every month, which can make the overall purchase more expensive.
---
Nidhi spreads the word about how awesome ClearScore is.