Get your free credit report
See your credit report and score in minutes. It's free, forever.
See your score
Can I get a loan with no credit score history?
What happens if you don't have a credit history? Find out if you can still get a loan.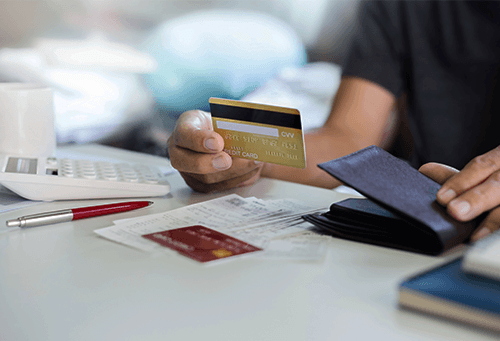 ---
Get your free credit report
See your credit report and score in minutes. It's free, forever.
See your score
---
Your credit history, which contains all the information about your credit health, determines your borrowing ability. Lenders review credit history to check whether lending you money is a good idea.
But is it possible for someone to get approved for first-time loans with no credit history? Can you get a personal loan with no credit score?
Here's what you need to learn about how to get a loan with no credit history.
When you apply for any form of financial assistance, your credit history is one of the first things a lender takes into account to assess how risky it is to lend to you. Your credit history provides a lot of information about your experience handling various types of credit.
Your credit score, calculated based on your credit history, indicates whether you are a creditworthy borrower. Lenders review your credit history to check whether you are regular with paying loan instalments and utility bills and how much credit you currently have.
The better your credit history, the less risky you are as a borrower. In fact, having a good credit history can help you save thousands of dollars in interest and fees. No credit rating or credit history is often a red flag, as the lender cannot assess the risk of lending money to you. Depending on the type of loan you are applying for, they may charge a significantly higher interest rate to offset the risk or reject your application immediately.
While no credit check loans, such as payday loans, are available in the market, they carry a significantly higher interest rate than regular loans. Due to astronomically high pricing, you also risk falling into a debt cycle to pay off the loan. Moreover, you may be eligible to borrow only up to a pre-determined limit which may not be sufficient for your needs.
It is possible that when you decide to apply for a loan to buy a house, or car, or pay for college tuition, you find out that you have no credit history:
You have never held a credit account in your name or applied for loans or credit lines previously
You haven't applied for new credit cards in the past five years, as credit reporting bodies remove credit enquiries from credit reports after five years
You have relocated from overseas and don't have an account with utility providers to pay for gas, electricity, or water
If you have a savings account with a bank, check whether your bank will issue you a credit card. Use the card for making smaller transactions, and make sure to pay off the dues in full every month. Keep checking your credit score using platforms such as XX periodically to ensure you are in good shape.
To start with, you can also get a secured credit card. You need to make an upfront security deposit, and your credit limit equals your deposit. Once you make payments on time, you can get the deposit back. If your repayment record is good, the credit card issuer may upgrade you to an unsecured credit card without any deposit and increase your credit limit.
A family member or friend can add you as an authorised user to their credit card. While you can use the card for purchases, the liability of making payments remains with the primary cardholder. You can set up a plan to help the primary cardholder with payments before signing up as an authorised user on their card.
If you cannot qualify for a credit card, opt for other smaller forms of credit, such as a store card or a postpaid mobile phone plan. Payment records of these also show up as part of your credit history.
Get a credit builder loan
For such loans, the lender deposits a certain amount in a savings account, and you must pay it back within a year or two. Once the repayment is over, you receive the money deposited. The repayment is reported to credit rating bureaus, helping you to improve your credit history.
Remember that it takes time to build your credit history. If you want to borrow on more favourable terms than what you would receive on no credit score loans, consider waiting for a few years to improve your chances.
It entirely depends on your needs and financial circumstances.
Generally, borrowers without credit history find it easier to qualify for secured loans as the risk of lending is lower for lenders. However, in case of default, you run the risk of losing possession of your asset. For instance, while there may be lenders offering car loans for 18 year olds with no credit history, any payment default would mean lenders repossessing the car and selling it off to meet the outstanding debt.
Lastly, whether you are applying for a secured loan or an unsecured one, the outcome of your application will primarily depend on your personal finances since lenders cannot base their decision on your credit history. Therefore, it is a good idea to evaluate whether this is the right time for you to apply for a loan at all if your finances are not in the best shape.
You don't want to fall into a debt trap, fail to repay instalments on time, spoil your credit score, and end up with lenders who provide loans to bad credit borrowers for specialised loans such as car loans for bad credit.
Applying for personal loans when you have a credit history can be challenging.
Here's how to get approved for loans for no credit history:
Research your options thoroughly
When applying for no credit history loans, avoid getting carried away by the first lender you come across. Compare as many lenders as you can who provide loans for no credit history and evaluate the interest rate, repayment terms, and fees offered by each of them. This will help you to choose the best option suited to your requirements. If you are applying for specific types of loans, such as debt consolidation loans, check whether a lender provides them to borrowers without a credit history.
Fill out the loan application
Once you have shortlisted lenders, fill out the application form. You can do it online or by visiting the branch. Since you are applying without any credit history or credit score, you may need to submit additional documentation, such as your employment history. Make sure to check the requirements of the lender to avoid any last-minute surprises.
Once your application is approved, the lender will send across the agreement for your signature and transfer the money to your loan account. Smaller loans, such as holiday loans, may be funded typically in one week or less. If the amounts are higher, such as in the case of car loans, you may need to wait for a couple of weeks.
If you are unable to qualify for no credit history loans, here are some options to consider:
Having a co-borrower on your loan application with a fairly good credit history can improve your chances of getting a loan. Their creditworthiness reduces the lender's risk of extending a loan to a borrower with no credit history. The co-borrower has the same liability as the primary borrower -- their obligation to make instalment payments kick in if you default on payment.
Most personal loans provided to borrowers with no credit history are unsecured loans. These carry greater risk for the lender as there is no fallback option in case the borrower defaults.
In such cases, opting for secured loans that involve pledging a valuable asset, such as your car or home equity, can be an option. The secured asset minimises the lending risk, making it easier for you to qualify even when you lack a credit history. You may also pay a lower interest rate compared to unsecured personal loans.
However, in case of loan default, the lender can seize the collateral to recover the outstanding amounts.
Can I get a loan with no credit history?
The short answer is: yes, you can get no credit score loans, provided you approach the right lender. But take out a loan only if you are confident about paying it back on time. Otherwise, you may end up with a poor credit score, damaging your chances of future borrowing.
Before you apply for a loan, make sure to check your credit report to understand your eligibility for the different loan offers. ClearScore allows you to check credit score and access free credit reports in just a few clicks. Get started.
---
Doug loves to work with lenders to get ClearScore users the best deals