Get your credit score today
See your credit score in minutes and unlock offers on loans today.
See your score
ClearScore Partners with Driva to Provide Pre-Approved Car Financing Offers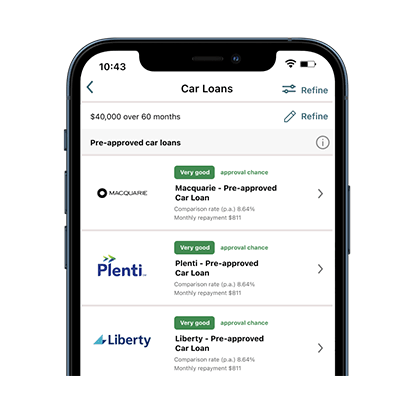 ---
Get your credit score today
See your credit score in minutes and unlock offers on loans today.
See your score
---
ClearScore is excited to announce an exclusive partnership with Driva to provide users with personalised and pre-approved* car financing options.
Accessible through ClearScore's free Confidence feature, Australian users can feel more confident and empowered when searching for car loans with Driva.
This is a significant milestone in our journey to help everyday Australians access credit pain-free. By partnering with Driva we've been able to leverage their loan matching algorithm and provide our users with pre-approvals for car loans without them needing to leave our platform" said Lloyd Smith, General Manager of ClearScore Australia.
With over 30 lenders and innovative technology that provides users with personalised car loan offers within 60 seconds, Driva and ClearScore are revolutionising how we finance our cars.
ClearScore users can access Driva's personalised car loan rates on their offers panel after adding information regarding their desired borrowing amount, contract length, car manufacturer and employment status.
This ground-breaking technology can help consumers see their pre-approved car loan rate, while protecting their credit scores by avoiding excessive enquiries.
After finding the perfect loan offer with the best rate, Driva will assess the users' application to indicate the likelihood of approval on ClearScore's dashboard, before they apply.
"Driva has thousands of lender data points built into its proprietary loan matching algorithm, which has been made accessible to ClearScore with their new Driva integration. This enables them to give consumers rate confidence after considering key personal factors like credit score, living situation and employment status" said William Brown, Co-Founder of Driva.
As Australia is becoming an increasingly digitised society, the car financing market has failed to provide consumers with quick and easy access to transparent loan options.
Furthermore, when considering that loan repayments are statistically the highest cost of car ownership, with AUD$35.7 billion capitalised from car finances in 2017, ClearScore and Driva expect that this partnership will disrupt the market by providing more power to consumers.
"The vehicle loan space is huge in Australia, but has historically been neglected by previous incumbents who have placed more emphasis on products like Mortgages and Credit Cards. With this partnership, we think ClearScore will be leading the way in helping Australian consumers compare their options in the complicated world of car financing" said William Brown.
With over 90% of car sales involving financing, this partnership will have an extensive reach in the Australian market, helping consumers take more control over their finances and is the first of its kind in the Australian comparison industry.
ClearScore is on a mission to provide consumers more control over their finances by delivering free access to their credit reports and scores.
Since its 2020 launch in the Australian market, ClearScore has empowered over 650,000 users by providing services that protect and empower them to take back financial control.
Driva has revolutionised the car financing experience in Australia, helping customers get instant access to accurate, pre-qualified finance offers from ~30 partners.
They provide customers unparalleled transparency and simplicity in the car financing process to ensure they are well informed when picking their loan options. Since its launch in February 2020, Driva has helped over 100,000 users find their best rate car loan option.
For all media enquiries, please contact William Brown at will@driva.com.au or +61 420 945 518
*Pre-approval means your application for finance has been approved subject to the provision of additional information, satisfaction of the lender's credit criteria and confirmation of your capacity to service the loan. Pre-approval is not an offer of credit.
Driva is a Credit Representative of Australian Credit License 393845, Credit Representative Number 520 242.
---
Lloyd spreads the word about how awesome ClearScore is.