Check your credit score
See your credit score in minutes and get tips to improve it. It's free, forever.
See your score
Refinance Car Loan
Find out if refinancing your car loan is right for you. If so, find out how to do it.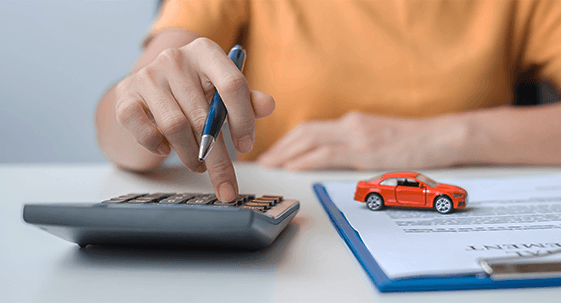 ---
Check your credit score
See your credit score in minutes and get tips to improve it. It's free, forever.
See your score
---
While the term of your car loan is usually lesser than taking out a 15-year home loan, servicing the loan can still be pretty expensive. If you want to reduce your monthly repayments and pay a lesser interest rate, refinancing your loan is an option available.
Here's everything you need to know about how to refinance a car loan:
There are a few reasons to get a refinance car loan in Australia:
The most popular reason to refinance your existing car loan is to save money. A car refinance loan at a lower interest rate can help lower your monthly repayments.

If your credit score has improved since you borrowed the original loan, you can get a better interest rate by opting for refinancing.

If you have a co-borrower on your original loan with a lower credit score that prevents you from accessing better lending terms from your current lender, a refinancing loan can come to your rescue. You can remove the current co-borrower by opting for a car refinance loan.

Refinancing can also help you extend a loan term and reduce the monthly instalment amount to manage your finances better.

If you have borrowed a loan to purchase a car, but the vehicle has severe defects, you can opt for a refinance car loan to get a new car.
Many borrowers with poor credit scores may consider this option to secure a better interest rate. However, ideally, you shouldn't refinance car loans for bad credit - unless there has been a significant improvement in your score since you borrowed the original loan, the refinancing lender is unlikely to offer you a better rate. Instead, you should focus on boosting your score before considering refinancing to improve your chances of getting a competitive interest rate.
Put simply, a car loan refinance involves borrowing a loan from a new lender to pay off your old car loan. Once you do that, you can start repaying the new lender as per the terms of the new lending agreement. A refinanced loan is offered at a lower interest rate than your existing loan, helping you save on interest payments.
The application process for a refinance car loan is similar to applying for a new car loan. Similar to specifying a minimum credit score for a car loan in Australia, refinancing lenders also have a cut-off for borrowers looking for a refinanced loan. The higher your score, the better your chances of obtaining a refinancing loan.
Can you refinance a car loan simply because you want to? Not really.
How quickly can you refinance a car loan depends on your current lending agreement. Some lenders may not allow you to exit for a specified time or charge a heavy pre-payment penalty for paying ahead of scheduled repayment.
Moreover, applying for a refinance car loan results in a credit check. Since your original loan application also triggers a credit check, refinancing the loan too soon can bring down your credit score. This can hamper your chances of borrowing other loans in the market.
Here's what you should take into account if you are wondering can I refinance my car loan right now:
What is the current market value of your car: If the value has depreciated significantly and you are yet to pay off a significant chunk of your loan, it may not be the right time to refinance. It is unlikely that you will find a lender willing to provide a refinanced loan.

How much time is left to repay your existing loan in full: If you are very close to paying off the remainder of your loan, it may not be worth refinancing, given the additional fees and costs you may have to pay as part of the refinancing arrangement.

What would be the cost of refinancing: Check if your current lender will charge an exit fee for refinancing and whether you need to pay any monthly service fees to your new lender.
Car refinancing is a straightforward process. Here's how to go about it
Don't sign up for the first offer that comes your way. Spend sufficient time researching so that you can find a loan best suited to your needs. Make use of loan calculators online to compare options against your current loan.
Ultimately, you borrow a refinancing car loan to save money. So make sure to only opt for one that maximises your savings.
Know your eligibility and fees
Once you settle on a lender, make sure that you meet the eligibility criteria to borrow a refinancing loan.
Be aware of the upfront and ongoing fees you may have to pay to get the loan.
Your credit score plays an important role in determining which lender will extend you a loan and on what terms. Sign up with online aggregators to check your score, or log on to the website of credit reporting agencies to check your score.
Fill up your application and wait for approval
Gather relevant documents you need to furnish in support of your application. This includes information about the current lender and details of your car. Make sure that you have the original loan agreement, receipt of car purchase, and your license handy. Most lenders allow you to fill up the refinancing loan application online. Once you submit the application, the lender may respond to you within a few days or a few hours.
Once approved, the lender will transfer the funds to your account. Make sure to pay off the outstanding instalments of your old loan and obtain a no-dues certificate. Start repaying the new loan as per the agreed repayment schedule with the new lender.
Any time you apply for a refinance auto loan, the lender performs a credit check to decide on your application. These checks are considered hard inquiries by credit reporting agencies. If you make multiple refinancing applications in a short time, it is likely to bring down your credit score on account of numerous hard inquiries. Too many applications signal to the lender that you are desperate for credit and unable to manage your finances well.
Having a low credit score due to multiple refinancing loan applications can also impact your chances of borrowing other loans in the future, such as a home loan or a personal loan.
There are numerous advantages and disadvantages of opting for car loan refinancing. These include:
More interest savings: If the refinance car loan rate is lower than what you currently pay, you can save on interest payments. So make sure to opt for a fixed-rate loan as your interest savings may go up and down with a variable one.
You can save on repayments: If you can negotiate a lesser monthly repayment, you can have some additional cash in hand. However, this could also mean repaying the loan over a longer time. Check whether the lender allows loan prepayment without penalty. Even if your repayment amount remains the same, you can pay off the loan in a shorter time and save on money.
Enjoy more flexibility: Depending on your credit profile and relationship with the lender, you may enjoy better lending terms on your refinance car loan. For instance, the lender may allow you to redraw amounts when needed or make additional repayments every six months without any penalty.
More interest payment: If the term of the refinanced loan is longer than your original loan, you may end up paying more interest over the life of the loan than you initially expected.
You may be penalised: Depending on the terms of your loan agreement, you may have to pay the penalty for switching over to a new lender. This may increase the overall cost of borrowing.
Higher interest rate for older cars: If you own an older car model, the refinancing lender may charge a higher interest than your current one.
Regardless of when you apply for refinancing, your score plays an essential role in deciding the interest rate and other lending terms.
Sign up with ClearScore to get credit score to learn about the best car loan offers you can get.
---
Doug loves to work with lenders to get ClearScore users the best deals