Get your free credit report
See your credit report and score in minutes. It's free, forever.
See your score
Increasing Inflation rates: What it means for Australians
Take back your financial power during these uncertain times.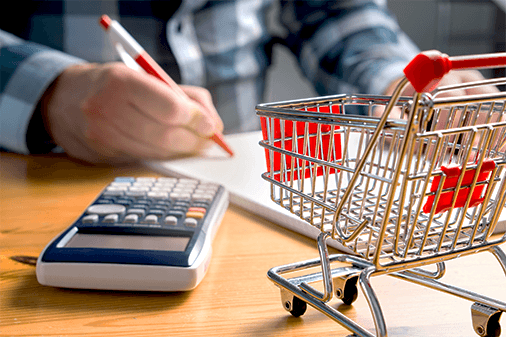 ---
Get your free credit report
See your credit report and score in minutes. It's free, forever.
See your score
---
Inflation is back in the news squeezing everyone's purse strings. Rising prices are a concern not just the world over but here in Australia as well. This is compounded by rising fuel costs due to the war in Ukraine and the country's havoc causing floods which left multiple possibilities for price rise.
Many economists had hoped that this would be the year that economies would recover from the shock of the covid-19 pandemic. While countries like China were expected to not only recover but sail through this period due to a resounding comeback in demand for Chinese products, inflation has been seen as a serious problem everywhere else, according to apex body, the International Monetary Fund.
Experts say geopolitical and pandemic related issues have sped up inflation. Yes, prices do increase as time goes by and for the last thirty years, the average inflation annually is 2.5%. But today, the things we consume on a day-to-day basis have become much more expensive.
Dairy and suchlike products are up by 1.8% vs 0.1%
Food products have risen 1.6% vs 0.8%.
Cakes and biscuits too are up 2.2% vs 1.1%.
Some things did rebound though. Like pork eggs, cheese, other cereal products and jams, honey, and spreads all became marginally cheaper. So, when you go to the market next time, you can always change around your shopping basket to add more greens and a little less beef and exchange that with cheaper alternatives like chicken.
The bureau also added that through the year, household spending increased in several categories:
The highest increase in spending was in the form of recreation and culture (+11.3%)
Spending on food was up by +9.7%
Clothing and footwear by a similar +9.6%.
What did drop was spending on alcoholic beverages and tobacco by 10.6% and furnishings and household equipment also fell by 4%. The reference period for this data was January 2022.
Overall, household spending increased 4.3% through the year, current price, calendar adjusted.
This is the time when buyers, who are finding it otherwise difficult to manage their funds, could look at alternative financial instruments to help them through these trying times.
Many Australians, during this time, have been asking pertinent questions. The foremost has been "when will interest rates rise?". They also want to know what interest rates are. For this, it is imperative for us to understand how interest rate changes affect everyday life.
When the interest rates rise, the repayments on mortgages, loans and credit cards will also increase. So, if you haven't done it all this while, this is the time to become smart about your money.
Thankfully there is now a long-awaited relief in fuel prices. The government, during last week's budget said it had slashed fuel excise and passed on the benefits to buyers. Locations like Sydney, Melbourne and Brisbane could see as much as a 25-27 cent benefit from this decision and Adelaide and Perth are likely to see an even higher 31 cent and 35 cent per litre reduction. Typically, tax on this is usually about 44 cents a litre. Around the end of February. average costs of petrol was about 179 cents a litre according to the Australian Institute of Petroleum. Following the invasion of Ukraine, the prices shot through the roof and went as high as 206.7 cents a litre. A month after that, by March 20, the average costs of petrol had shot up to 212.5 per litre, said the institute.
Many Australians are finding it difficult to cope with these financial challenges. But what we must know is that this is also a great time to grow our investments rather than putting them into a low yield savings account. We can use financial instruments which can help create a pool for us and our families. This is because cash lying in our bank accounts tends not to multiply. Our money is not making much money in the bank.
In such trying times, it does help if one can create a way by which one can make payments in a smarter, more efficient way. There are several options available like a 0% credit card for one. Simply put, in this, you can choose to not pay any interest for up to two years, depending on the type of card you choose. With these cards, there is no interest due to you when you make your purchases and so the time available to repay what you spend without incurring any extra fees is beneficial.
This is of great avail in situations like these where the Consumer Price Index (CPI) is on the rise. In this quarter alone, the CPI is up 1.3%. In the last twelve months leading up to December 2021, the index rose 3.5%. Of everything that increased in cost, the most significant price rises were seen in the area of purchase of new dwellings by as much as +4.2%. Automotive fuel also rose by a whopping +6.6%.
Late last year, ClearScore had put together an analysis where it studied the impact of Covid on financial habits of Australians and analysed data of over half a million users, combined with its survey data, and found that during the pandemic, credit scores had been improving in Australia with 30% fewer missed payments on loans and active defaults went down by 21%.
It even said that ClearScore users with the lowest credit scores had seen the biggest improvement in their credit scores, up over as much as 100 points in the last 12 months leading up to December 2021, by simply understanding their finances.
One of the main factors when looking at refinancing your home loan is that you must have over 20% equity in your home. The other major factor that helps is that you have a good credit score and history. Don't forget that refinancing can be much like applying for a new home loan itself. So the kind of documents that you need to provide are the same. These include bank statements, id proofs etc. Refinancing can benefit you if you can get a competitive interest rate by refinancing to a major lender once you have fixed past credit dues or issues, if any.
As in the case of regular home loans, if you apply with more lenders than you need to, it can negatively impact your credit score too. If you have made more than 4 enquiries in the span of one year, you might end up having just a small kitty of lenders to choose from as you may no longer be eligible.
The buy now, pay later scheme has also got its benefits but some things you must watch out for when it comes to how it impacts your credit score. Of course, you must pay back the lender within that stipulated period. This can happen in the form of a complete payment amount, through installments. A delay in payments is likely to impact your credit score though and that is where you must be vigilant. BNPL schemes help increase affordability, give people access to credit instantly; they also ensure transactions done by those using these services are safe. But most importantly, let the customer decide the repayment tenure and offer zero cost repayment plans. Why these schemes work is because the plans are laid out and transparent.
Yes, inflation can still be controlled. The country has been struggling with its prices, but the inflationary data is much lower when compared with other countries. The United States, the UK, and Canada have had higher inflation in this period as compared to Australia. So, it will only help those who have been or can be smart with their money.
While the government will have to increase interest rates to combat growing inflation, it is important to note that we can still be smart about our money. Small and quick changes in our spending habits and saving patterns can help us sail through trying times like these. Check out your credit score today to start making smart financial decisions.
---
Lloyd spreads the word about how awesome ClearScore is.