Check your credit score today
See your credit score and browse a huge range of credit cards. It's free, forever.
Check your score
How to apply for a credit card
Applying for a credit card is an important moment. Find out everything you need to know.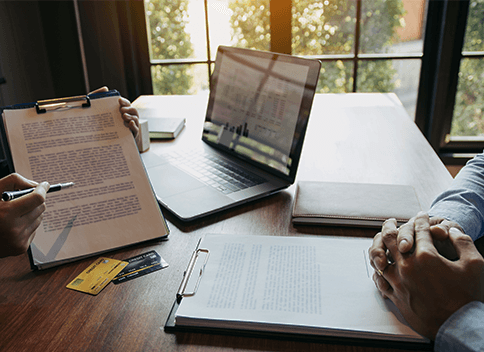 ---
Check your credit score today
See your credit score and browse a huge range of credit cards. It's free, forever.
Check your score
---
Applying for a credit card marks an important moment for your personal finance journey. Besides being a credit-building tool and helping you pay for high-value purchases, credit cards also offer perks such as rewards points, gift vouchers, and concierge services.
However, how to get a credit card remains a tricky area for many as most applicants don't know where to begin.
Here's everything you need to learn about how to apply for a credit card:
'I want to apply for a credit card but don't know whether I am eligible' - this is an extremely common concern many applicants face.
Knowing whether you are eligible to get a credit card before starting the application process can put your fears to rest. And the best way to learn whether you are eligible for a credit card you have been considering is to check with the card issuer directly. These days most credit card issuers publish the criteria on their website or upload product brochures online. You can also drop into the nearest branch and have a chat with the manager about your eligibility.
And when can you apply for a credit card? If you meet the eligibility requirement and have all the information required to support your application, you can start the process immediately.
Having said that, take a look at your finances and outstanding obligations to understand whether you can afford to take on a credit card. A credit card doesn't mean a free pass to spend, as you must repay the amount on time and with interest. So if you are not sure about paying back on time, applying for one may not be a good idea.
When applying for a credit card, the card issuer may need you to provide information to confirm your eligibility. Here's a list of details typically required:
Personal identification information
This includes your full name, residential address, contact number, proof of citizenship or residency, and date of birth. You may also need to provide driver's licence details or a copy of your Medicare card.
When applying for a credit card, your employment status, name and address of your employer, and annual salary can be requested by the card issuer to evaluate your application. Additionally, payslips can be requested to confirm that you have a steady source of income. Some credit card applications may also need you to attach a copy of your employment contract.
Alternatively, you may need to submit your sources of income, such as Centrelink payments, income from financial assets or real estate, or any other assets.
If you are applying for a specific type of credit card, such as a balance transfer credit card, you will also need to provide additional information. This can include the current credit limit and the balance transfer limit you need.
If this is your first credit card, here are some questions to consider so that you pick the best one suited for your needs:
Are you a student or are you a working professional?
When it comes to getting a credit card, there is no-size-fits-all solution. There are different types of credit cards that work for different people. For instance, if you are a student studying at a university, you can check if the card issuer has a designated card for you. Such cards charge low interest and no annual fees. You can use low-interest credit cards to build your credit history without running the risk of incurring significant debt.
What's your annual income?
Your income is a critical factor when it comes to choosing your first credit card. The bank may place more weight on your income to decide on your application -- your income should be more than your card's credit limit. It is wise to opt for a credit card with a low minimum annual income requirement to improve your chances of getting approved.
How much can you repay comfortably?
When you apply for a credit card, you need to consider whether you are in a position to pay off the dues. Apart from the interest rate, you should also consider the annual fees and other charges, if any. Failure to pay the dues on time can impact your credit score and eventually push you into a serious debt trap.
Before you get a credit card, do thorough diligence and compare as many options as you can. Consider the pros and cons of credit cards carefully, so you know what you are signing up for.
Here's a stepwise guide on how to apply for credit card in Australia:
Compare options available
Don't skip this step in a frenzy to get a card as soon as possible. Your application for a credit card begins with thorough research. Start by listing down what you are looking for in your credit card and compare the options available in the market. Make sure to consider the features of a credit card, the annual fees or service charges payable, the reward points offered, and the interest charged.
If your income falls within the low to medium range, choosing a card with a lower interest rate is a better bet. You also don't want a very high credit limit to keep your spending in check. On the other hand, if your income is on the higher side, you can consider a card with a higher limit and interest rate. The bottom line is simple -- the more time you spend comparing your options, the better the chances of finding something that suits your requirements to the T.
Start the application process
You can apply for credit cards online by submitting your application on the card issuer's website or visiting the branch of your bank. You need to ensure that you fulfil the eligibility requirements specified and support your application for credit card with enough documentation that shows you can make repayments on time.
Once you submit a credit card application, it is time for the card issuer to provide its approval. Most credit card issuers provide instant approval within a few hours once you apply. Usually, this is conditional approval, and the final approval comes through once the bank verifies your information. Others may take a few days and get back to you with their decision. Either way, the card issuer pulls out your credit report through a credit rating agency to check your score and credit history.
If the card issuer approves your application, you can expect the credit card to arrive by post within a week. If not, you should continue looking for other options. However, ensure not to apply to too many card issuers in close succession as that can negatively impact your credit score.
The exact credit card requirements in Australia vary depending on the card issuer you are approaching and the type of card you are applying for. However, typically you must fulfil the following conditions to get a credit card:
You should be 18 years or above;
You should either be an Australian citizen or have an eligible visa or permanent resident status;
Your income should meet the minimum annual income criteria of the card issuer. Typically, this can be between $ 15,000 to $ 80,000.
Your credit score should be above the cut-off specified by the lender unless you are applying for a credit card with no credit check
It helps to know your credit score before you apply for a credit card. That way, you know whether you can get regular credit cards or apply for specialised offerings such as credit cards for bad credit. You can reach out to a credit rating agency to get a copy of your credit report that shows your credit score. Alternatively, you can sign up with ClearScore to get your credit score for free.
However, remember that there is no guaranteed approval credit card in Australia, as card providers examine each request case-to-case basis.
There is no fixed credit score that can guarantee you a credit card in Australia. The minimum score varies depending on the issuer though most card issuers prefer an applicant with a "good" or "excellent" credit history. Also, remember that different rating agencies follow different rating models to arrive at your final score. Therefore, having a good score from one agency doesn't automatically mean another agency will give you the same score.
Therefore, when you are considering how to apply for credit card issued by a particular lender, check what their credit score requirement is. This will save you from making unnecessary applications.
How to get credit card in Australia is a straightforward process. But always use your card responsibly and pay the dues on time to maintain a good credit history and credit score.
You can check credit score for free anytime with ClearScore and access free credit reports. Take a look.
---
Lloyd spreads the word about how awesome ClearScore is.