Check your score
See your credit score in minutes and get tips to improve it. It's free, forever.
See your score
Business Credit Score
Ever wondered what a business credit score is? Keep reading to find out more.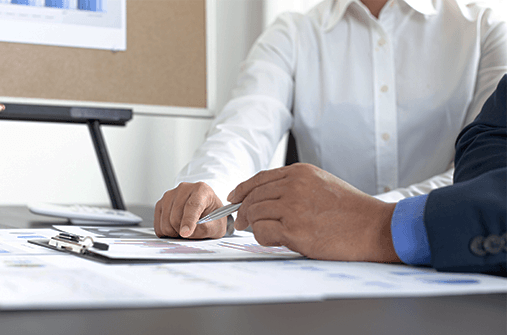 ---
Check your score
See your credit score in minutes and get tips to improve it. It's free, forever.
See your score
---
The creditworthiness of your company is assessed by lenders using your business credit score, which can also help you ‌secure a business loan, utilities, credit cards and other financial support.
It is important to understand how your business score is calculated, what factors affect it, and the different ways you can improve your score to keep your company in a good financial condition.
Let's take a look at everything you need to know about a business or corporate credit score:
A business credit score determines the likelihood of a company being approved for a loan, credit card, or any other line of credit. It is a credit rating used by financial institutions, banks and lenders to measure your company's financial health and helps assess the risk involved in lending to your business. Lenders conduct business credit score check every time you apply for a new line of credit.
A high business credit score can help in several ways, including:
Quick financing for your business without depending on personal credit
Low business insurance policy rates, especially if your business is expanding
Easy business loans at more affordable rates
Your entire credit history with lenders and suppliers determines your business credit score. Credit reporting agencies calculate business credit scores by considering several factors including:
Credit: Credit utilisation, number of trade experiences, a company's repayment habits, overall debt

Demographic Information: Standard Industrial Classification(SIC) code, the size of your company, years on file

Public Records: Any recent legal filings such as tax liens, judgements, or bankruptcies.
There are a few factors that differentiate a business credit score from a personal credit score, which include:
A business credit score is accessible to anyone
Unlike personal credit scores, which are confidential and only accessible to individuals and lenders, a business credit score is available for everyone to see.
The scale for business credit scores is smaller
Business credit scores don't fall within the same numerical range as personal credit scores. When you conduct a company credit check in Australia, the business credit score number is normally between 0 and 100. Though this also depends on the credit bureau you are checking to get your credit reports.
Business credit scores are determined by different factors
Your payment history, credit history's age, debt utilisation, industry risk, and firm size are used to calculate your business credit score.
Factors impacting a business credit score?
There are a variety of factors that have an influence on your business credit score such as:
Without a company's credit history, it is impossible to show your creditworthiness. Your payment history will probably have the biggest impact on your business credit score. Therefore, it is critical to pay all your bills on time. Late payments or worse, loan defaults may have a terrible impact on your credit.
When you apply for a new line or credit, lenders conduct hard credit inquiries which are also marked on your report whether you get approved or not. Too many hard credit inquiries in a short span of time can decrease your business credit score.
A high number of inquiries made in a short period can make lenders assume that you are not handling your money correctly or that you are getting turned down for credit a lot.
Liens that have been filed, lawsuits, judgments, and unpaid taxes are some examples of public records.
The business information in your company credit reports is used to calculate your credit score. This comprises the structure of the firm, the legal entity's name, the business address, the directors, shareholders, and other information.
The company's credit score can suffer if you declare bankruptcy.
Compared to a company that has been in operation for a longer time, you can be viewed as a riskier borrower if your business is considerably new. This is because you haven't built up a track record and payment history.
The range of a credit score that determines whether it is good or bad depends and varies on different business credit bureaus.
Experian, Equifax, and Illion are the three major credit reporting bureaus that calculate business credit score in Australia, and each one employs its own credit scoring model.
Experian credit score: It falls within the 0-100 range. A business credit score of 76-100 is considered very good and Experian considers your business as low risk. For small businesses, Experian also considers the personal credit score of business owners.

Equifax credit score: The business credit report for Experian has three different scores in it: Business credit risk score, payment index, and business failure score. The business credit risk score falls between the range of 101-992, the payment index score is in the range of 1-100, and the failure risk score is a number between 1000-1610. All of these scores are assessed by lenders.

Illion credit score: Illion provides two scores in its business or commercial credit report, late payment risk score and failure risk score. While the late payment risk score falls between the range of 100-799, the failure risk score is in the range of 1000-1999
Credit checks on companies are done for any business looking for a new line of credit, whether a large or small business. For example, credit checks for businesses are required if a company wants to take out a loan. Credit checks help businesses to determine their credit score while also checking other factors such as a business's profit, revenue, assets, and liabilities.
Personal credit scores are normally not required for checks for businesses. However, depending on the size of the company, there are cases where business credit checks extend to personal credit checks. Since small business owners' personal and professional finances are usually connected, the lender may check both the business's and the owner's credit scores.
A business credit file does not contain the personal information necessary to determine an individual's credit scores. A business credit report includes the following information:
Financial Information about the company: This information helps a business to identify the ‌ credit limits and evaluate the credit risk of extending terms.

Background Information on the business: This can include information on subsidiaries and parent companies.

Bankruptcies, judgments, and liens: Assess potential clients quickly to prevent dangerous transactions

Personal Property Securities Register (PPSR): Your credit report will contain any information the PPSR has regarding the assets of your business.

Historical data on banking, trade, and collection: This information can help to learn more about an account's past payment history
There are several strategies to improve your business credit score, including:
Pay all of your bills on time. Your company's credit score is highly ‌influenced by timely payments.
Keep track of your business credit score
Check your company's credit reports regularly. You should monitor your company credit score for updates and changes. Take proactive actions if your credit score goes below a specific level and you're not sure why. It's common for mistakes to occur on company credit reports from time to time.
Don't use all of your available credit
When using business credit cards and other lines of credit, maintain your credit utilisation below 30% for the credit score.
Avoid getting into legal trouble
Any court involvements will be recorded on your company credit report and will lower the credit score of your business.
Limit your credit applications
An increase in credit inquiries related to applications may have a negative impact on the rating. When applying and many loan providers turn you down, not only wastes a lot of time but also lowers your business credit rating.
Business credit score can be directly checked through any of the credit reporting agencies. Building a solid business credit score is crucial to growing a successful business. Your business's financial health is critical to its long-term success. You can establish a solid business credit score by prioritising on-time payments and a stable credit utilisation rate. A business can benefit from having a strong business credit score ‌by getting easier access to funding.
By conducting regular business credit checks online in Australia, you can ensure your business is always financially secure.
If you are a new business owner, start by checking your own personal credit score.
With ClearScore, you get free access to credit reports and you can check credit score any time in just a few clicks.
---
Nidhi spreads the word about how awesome ClearScore is.