Check your credit score today
Check your score and get tips to improve it. It's free, forever.
See your score
How to get a car loan
Find out everything you need to do when applying for a car loan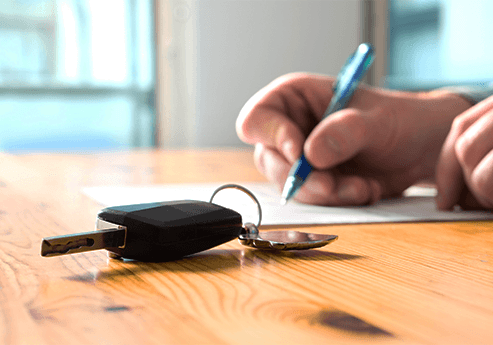 ---
Check your credit score today
Check your score and get tips to improve it. It's free, forever.
See your score
---
Owning a car is aspirational for a vast majority of Australians.
While loaning a car from your friend or a rental service is an option, it may not always be practical. However, buying a car is not cheap, and you may need a loan to finance your purchase.
Here's everything you need to know about how to get approved for a car loan:
A car loan is the money you borrow from a lender to exclusively finance a car purchase. It is also known as a vehicle loan or auto loan. While the tenure of a car loan is longer than a personal loan, the interest rate is on the lower side. Moreover, unlike a regular personal loan the proceeds of which can be used for any purpose, the end use of a car loan is restricted to purchasing a car.
Car loans are available to purchase private and commercial vehicles.
Here are the various Australian car loan options available:
The car you want to purchase serves as the security for the loan. In case of payment defaults, the lender can take possession of your car and sell it to recover the loan amount.
The majority of car loans in Australia are secured by the vehicle purchased.
Such a loan is provided without taking security over your car. Since the lender cannot possess your car in case of payment default, the interest rate tends to be higher than secured loans.
Those who are self-employed and want to buy a car for business use can opt for chattel mortgages. The mortgage works like a personal loan, but you can only use the car for business purposes.
The lender retains security over the vehicle. The repayment terms of a chattel mortgage are similar to a regular loan. The only exception is a larger final repayment, known as a balloon payment, instead of paying equal monthly instalments.
Car dealers can directly finance the purchase of your vehicle. You can explore this option if you want better interest rates than banks and financial institutions usually offer.
However, dealers are known for imposing additional lending terms.
You can borrow an unsecured personal loan and use the proceeds to purchase a car. You can repay the loan through monthly instalments.
The interest rate of unsecured loans tends to be higher as you don't have to provide security to the lender.
Getting a car loan is similar to any other loan -- you borrow money from a lender and repay it over a fixed period along with interest. The only difference is that the loan amount is meant explicitly for purchasing a vehicle. You can either opt for a secured loan where the lender has security over the car or structure the loan as unsecured without offering any security.
The lending terms may vary depending on what type of loan you borrow. For instance, lenders may have slightly different terms if they are financing the purchase of a pre-owned car.
Check out these tips to simplify the application process for getting car financing:
Check eligibility criteria and keep documents ready
Car loan requirements vary depending on which you are approaching and which car you are purchasing.
Before applying for any car loan in Australia, check each lender's eligibility requirements. You need to be at least 18 years old and be an Australian citizen or permanent resident to be able to borrow personal car loans.
You also need to provide documents in support of your application. Keep all the paperwork handy so that you can complete the application process in a hassle-free manner.
Unless you are applying for no credit check loans, your credit score is crucial in deciding what type of loan you can borrow and on what terms. Some lenders do not entertain loan applications from applicants who do not fulfil their minimum credit score requirement.
To avoid last-minute surprises, make sure to check your score in advance before you start shortlisting the lenders.
Consider getting pre-approved
Some borrowers like to know their chances of getting a loan before they begin the actual paperwork.
Getting a loan pre-approved lets you know how much you are eligible to borrow and on what terms. This can help you plan your budget. Since the lender has already approved you for a loan, you can apply instantly. A lender conducts soft-credit checks on an individual's credit report for pre-approving a loan.
However, pre-approvals are only valid for a few months and can be revoked by the lender.
Finding the right loan for financing a car is a long-drawn process. A thorough car loan comparison can help you find the best lender suited to your needs.
Here's what to keep in mind when comparing:
The most crucial factor is the car loan interest rate.
Interest rates vary across lenders. Ideally, you want to borrow a loan on which you have to pay the least amount of interest. Remember that lenders do not offer the same car loan rates to all borrowers. Your income, financial situation, and credit score go a long way in deciding how much interest is charged.
Every lender charges a processing fee to move forward with your loan application and sanction the funds. Usually, the fee is a fixed percentage of the loan amount.
You should pick a lender who charges less processing fees. If you have a good credit score, you can even negotiate with the lender and get a waiver.
The amount you have to pay each month to pay off the loan depends on the repayment terms set by the lender. The repayment period is inversely proportional to the instalment amount -- longer the duration of the loan, the lower your instalment, and the higher the interest rate.
You should opt for an instalment amount that you can afford to pay every month without delays or defaults. Use an online car loan calculator to work out how much EMI you need to pay based on the loan amount, interest rate, and term of the loan.
Having the option to prepay your loan ahead of its scheduled maturity can help save on interest payments. Not all lenders allow you to foreclose your loan, and some may even charge a penalty for repaying your loan.
How quickly you can get a car loan is another factor to consider.
You want to go with a lender who can provide approval within a few hours and ask for minimum documentation.
Sometimes lenders may have different lending terms for different models of cars. For instance, choosing an older model could mean a higher interest rate. When you are comparing various offers, make sure to check the terms are specific to a particular model or make of the car.
Here are some features of a good loan that you should look out for when evaluating and understanding car loans:
Charges low interest rates
Has zero or minimal processing fees
Allows prepayment without any penalties
Offers flexible repayment terms
Allows swift processing
Doesn't require any additional collateral apart from the car itself
How to apply for a car loan?
Applying for a car loan is straightforward:
Fill up the application form, either online or offline.

You need to attach supporting documents with your application. Typically, lenders need you to provide: Proof of residence, Proof of identity, Bank statements for the last 2 years and List of assets and liabilities.

Once you submit the application, it is reviewed by the lender.

If your application is approved, the lender sends over the loan agreement for your signatures.

Once you sign the agreement, the loan amount is either credited to your account or the car dealer's account.
A bad credit car loan is a loan that you can borrow to purchase a car even if you have a poor credit score. While these loans work like any regular car loan, be prepared to pay a higher interest. A bad credit score makes you a risky borrower and higher interest squares off the lender's risk. You may also be unable to borrow the entire amount and may need to make a downpayment.
You can borrow a bad credit car loan from lenders that specialise in providing such loans.
The minimum credit score for car loan in Australia varies depending on which credit reporting agency's credit score the lender considers.
Usually, a score of 620 and above is considered a good credit score for car loan. Higher the credit score, the better your chances of negotiating favourable lending terms, including a cheaper interest rate.
Yes, you can get a pre-approved loan subject to certain conditions.
Having a good credit score helps since lenders perform car loan credit checks to know your repayment track record. The higher your score, the better your chances. Being a long-time customer of the lender also improves your chances of getting such a loan.
A bad credit score doesn't mean you cannot apply for car finance. You have the following options:
Approach bad credit lenders
One of the best ways to finance a car in Australia with bad credit is to work with bad credit lenders. These lenders have loan offers specifically targeted toward borrowers with poor credit scores. While you may be able to borrow the desired amount, be prepared to pay hefty interest and other fees.
Payday lenders allow you to borrow money for a short period. The repayment period is usually between 16 days to 1 year. While bad credit is not an issue for such lenders, payday loans for bad credit tend to be expensive due to the high-interest rate. Moreover, the lender may ask you to pledge your car as security for the loan.
Approach a credit repair company
Credit repair companies specialise in identifying inaccuracies in your credit file and communicating with credit reporting agencies to remove them. This helps to improve your credit score. However, ensure you are only approaching legitimate and licensed credit repair companies. Anyone promising to get rid of all negative entries from your credit file is best avoided.
Now that you know how to get a car loan in Australia, maintain a high credit score to bag the best offer.
Sign up with ClearScore to get your free credit report and check credit score rightway to better understand your eligibility for different car loan offers.
---
Lloyd spreads the word about how awesome ClearScore is.