Check your credit score
See your credit score in minutes and get tips to improve it. It's free, forever
See your score
Credit Cards vs Buy Now Pay Later
With the BNPL industry catching up, find out how it compares to credit cards.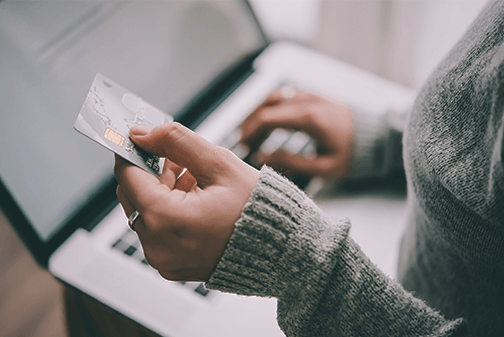 ---
Check your credit score
See your credit score in minutes and get tips to improve it. It's free, forever
See your score
---
The lending market in Australia is no longer restricted to loans and credit cards. Buy now pay later, an innovation in the fintech industry is slowly catching up. This option makes it easy to make a purchase now and repay the amount through instalments over time, without additional interest.
But how do you decide whether to go for a credit card or buy now pay later card? Here's what you need to know.
Buy now, pay later, or BNPL is short-term financing available in the market that allows customers to make a purchase and repay it interest-free later. You can think of BNPL as similar to any unsecured personal loan you may borrow.
Some of the key players in the Australian BNPL market include:
Those who are ineligible to qualify for traditional credit cards often use BNPL credit cards issued by these providers. BNPL cards function as a credit line and can be used both online and over the counter during checkout.
Some BNPL providers may need you to pay a small percentage of the purchase price upfront, while others, such as Afterpay, require no upfront payments. The repayment schedule is specified upfront, and typically, you need to pay off the entire amount within a few weeks. There are multiple options to make the repayment, such as through bank transfer, direct debit from your savings account, or charging your credit card. You know the repayment instalments beforehand, and since no interest is charged, the amount remains fixed.
Apart from individual use, BNPL providers also issue buy now pay later gift cards that you can gift to someone else.
Credit cards are another popular way of making cashless transactions. Banks and financial institutions issue credit cards with pre-set credit limits. The cardholder can use the card, online and offline, to make purchases up to the specified limit.
Repayment of the debt doesn't attract interest if paid within a specified time. However, credit card companies charge interest on payments made after the due date, and this is known as the Annual Percentage Rate or APR.
Between credit cards vs buy now pay later, which one should you choose? To help you make that decision, here's a look at how these products vary:
For the majority of buy now pay later credit cards, the minimum qualification criteria are very straightforward. You should be:
At least 18 years old;
Have an account in Australia in your name or hold a credit or debit card; and
A resident of Australia
Issuers of pay later credit cards do not conduct credit checks to approve your application. Typically, your application gets approved within a few hours.
On the other hand, eligibility requirements for credit cards are extremely stringent. Apart from fulfilling the basic criteria for BNPL MasterCard, you also need to:
Be a citizen of Australia or a permanent resident
Have a regular source of income
Furnish details of income, current debts, assets, and expenses
The credit card company may also request additional details based on the information provided. Approval may take more than a few days or weeks. In fact, choosing a credit card suited to your needs can be a task, given the strict eligibility criteria specified by credit card companies.
A credit check is a key differentiator when it comes to BNPL vs credit card comparison.
Whenever you apply for a credit card, the credit card company pulls up your credit report and reviews your score. This is an important check to determine your creditworthiness and plays a significant role in sealing the fate of your application.
Most credit card providers have a minimum credit score requirement that makes it difficult for borrowers with bad credit history to get approved for a credit card. Moreover, multiple applications for credit cards within a short duration results in multiple hard inquiries, bringing down your score.
In contrast, those issuing buy now pay later visa cards do not usually carry out hard credit checks. This feature also makes it perfect for borrowers looking for no credit check financing options. Some may perform a soft credit check, but that doesn't have any effect on your credit score.
Impact on your credit score
Does credit card affect credit score? Yes, your repayment record of credit card bills has a direct impact on your credit score. When you miss making a payment or pay past the due date/grace period, the credit card company reports such information to the credit reporting body. Multiple instances of payment defaults or delays can pull down your score and affect your ability to borrow in the future.
Does BNPL affect credit score? Most buy now pay later plans do not impact your credit history or score as they do not report to credit rating bureaus. While this also means that it cannot be used as a credit score-building tool, it helps you to carry out transactions without worrying about how your score may go down. This makes BNPL an attractive financing option for those who are struggling to get approved by traditional lenders due to bad credit.
When comparing BNPL options like AfterPay vs credit cards, the rewards program is a feature that stands out.
Most popular credit cards in the market are known for their lucrative rewards program. You can earn up to 10X reward points that can be redeemed in a variety of ways, including air miles. Some even offer insurance and purchase protection plans.
However, buy now pay later plans from some providers do not have any rewards program. They are marketed as a convenient option to access short-term financing as opposed to being one that provides incentives. The only exception is Klarna, where you receive 1 point for every dollar spent, redeemable against gift cards and airline vouchers.
The spending limit of credit cards varies depending on the financial background of the applicant. It can range between $500 to $20,000. As a rule of thumb, the better your credit history and credit score, the better your chances of getting a higher credit limit.
The limit of any kind of BNPL plan, including MasterCard buy now pay later, varies significantly. Service providers such as Klarna and Zip set a limit upfront, whereas Afterpay likes to provide an estimated amount you are free to spend. When choosing a visa or MasterCard pay later option, pay attention to how much you can spend.
Credit cards are accepted everywhere. There's hardly any payment you cannot make using your credit card. So should I use my credit card for everything? That depends on a case-to-case basis. If you are regular with your repayments and don't want to dip into your savings or don't have access to enough liquidity to pay for high-ticket purchases, using a credit card is a good idea.
Compared to credit cards, BNPL is a fairly new product in the market. As a result, it is not as widely accepted as credit cards. Make sure to check with the retailer if there is an option to use BNPL at checkout. Can you Afterpay electricity bills? That depends on the service provider, your bill amount, and your Afterpay limit. If your service provider allows payment through BNPL options, you can pay part of the bill using Afterpay.
Credit cards attract a variety of charges. Apart from interest, you also need to pay annual maintenance fees and joining fees. These can quickly add up and make credit cards a more expensive option. And that's why you shouldn't use credit cards if you are unable to afford the costs.
BNPL is virtually free. There is no joining fee though some may charge a monthly fee. Most providers do not charge any interest though you may have to pay a penalty for delayed payments.
Is a credit card a good idea or should you go for BNPL cards? This depends on your circumstances and what you want to achieve through the card. Consider the pros and cons of credit cards and BNPL options carefully before you decide.
If you simply want a plan that allows you to buy on credit and split the amount into smaller instalments for repayment without imposing too much additional cost, BNPL is for you. But if you are looking for something that helps you with staggered repayments and builds your credit history, you may want to explore credit cards.
But whether you apply for credit cards or BNPL, you will first need to make sure you have a good credit score to get approved for either of them. ClearScore allows you to check credit score for free and get credit reports in just a few clicks. Sign up and get started.
---
Stephen Smyth has worked in financial services since 1999, specialising in consumer credit. He has worked in banks and consumer credit companies in the United Kingdom, France, Spain, India, South African and has lived in Australia since 2013. He believes that people around the world can benefit from services liked ClearScore to make finances clearer, easier to understand and to find better deals to save money.