Check your credit score
See your credit score in minutes and get tips to improve it. It's free, forever.
See your score
Bad credit home loans
Are you thinking of applying for a home loan but have bad credit? Keep reading to learn more.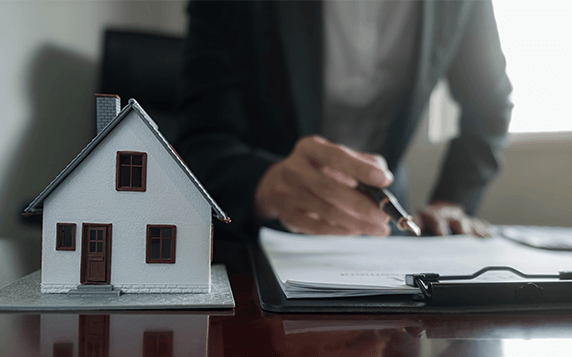 ---
Check your credit score
See your credit score in minutes and get tips to improve it. It's free, forever.
See your score
---
For most borrowers who have a clean credit record, getting approved for a home loan is a straightforward process. But when you have a bad credit score, it is hardly a walk in the park. In such cases, bad credit home loans can be a suitable alternative as they are specifically targeted toward applicants with poor credit who cannot get loans from regular lenders.
Here's everything you need to know about these low credit loans:
As the name suggests, bad credit home loans are loans for borrowers with poor credit scores. These loans often carry a higher than usual interest rate to square off the risk of lending to someone with a low credit score who is at a higher risk of defaulting on payments.
These loans are usually borrowed for a short or medium term as the relatively high-interest rate, and additional fees make the borrowing expensive, compared to traditional home loans. Most borrowers opt for refinancing the home loan once their credit score improves.
As is the case with any loan, bad credit home loans in Australia do not have guaranteed approval. All applications are considered on a case-to-case basis.
Here are the potential advantages and disadvantages of signing up for bad credit history loans:
You can buy a house of your own and save on hefty rent
You can save a substantial amount of money by taking a bad credit home loan early on as property prices are continuously on the rise
Your credit score can decrease further if you don't repay on time
You may have to pay higher interest and lender's mortgage insurance compared to borrowers with good credit scores.
Unless the lender you approach offers no credit check home loans in Australia, your loan application will result in a credit check. Every credit check is considered a hard inquiry. Multiple applications in a short time can lead to multiple hard inquiries, pulling down your score further.
Getting a loan with a bad credit rating is not impossible. For a vast majority of lenders, your credit history is only one of the factors considered for determining whether you are a suitable borrower. Your source of income, current debts, expenses, how much loan you want to borrow, and what security you can furnish are some of the other factors considered when you submit your loan application.
Even if you have a poor credit score and have defaulted once on a small amount of loan in the past, but the lender is convinced that you have the means of making timely repayment, you may be able to get a loan. On the other hand, if you have several overdue payments on your credit report, you may not be considered for a loan.
Moreover, your chances of getting a loan with a bad credit score depend on the kind of lender you are approaching. Traditional lenders are most likely to reject anyone who fails to fulfil the minimum credit score for the home loan. In contrast, specialist lenders who offer low credit score loans may be willing to consider your application.
When you apply for a home loan, the lender runs a credit check to assess your creditworthiness. Your credit score represents your credit history. It helps the lender evaluate how you have fared as a borrower in the past and how likely you are to honour your repayment obligations.
A good credit score indicates a highly creditworthy borrower who is more likely to get approved for a home loan at favourable terms. A poor credit score can lead to rejection or lending on stricter terms, including a higher than usual interest.
Here is what you need to keep in mind when comparing poor credit loans:
What is the cost of your borrowing?
When comparing bad debt loans, you need to look beyond the face value of your interest rate. Check whether you are being charged a lower introductory rate that will reset to a higher rate after a specified time. Use a mortgage calculator to work out how much instalment you need to pay every month and whether you can afford it.
Go over the fine print to check if the lender is imposing any additional fees, payable upfront or on an ongoing basis. You should also check whether you need to pay any discharge fees in case you plan to refinance a home loan. These costs can add up and increase the overall price of the loan.
Additionally, watch out for whether the lender wants to extend a fixed-rate loan or a variable one. A variable rate mortgage can increase your instalment amount as it is the lender's discretion to decide how much interest you will pay. If you are on a tight budget, it may be better to opt for a fixed-rate mortgage as there are no last-minute surprises.
What are the features of the loan?
When borrowing home loans for bad credit, make sure that the lender allows redraw and prepayment facilities to help you stay on track with your repayments. Also, check if there is a split rate option available on the loan, which allows you to divide a part of your loan into a variable-interest one while the other half continues as a fixed-interest one. You can leverage the interest rate going down and save on interest payments.
How flexible is the lender?
Securing finance for bad credit is not the same as looking for finance with a great credit score.
You need a lender who is willing to consider your loan application even when you don't have a perfect credit history.
Check with the lender if there is a minimum income requirement you need to fulfil or do you need to furnish any security for the loan. Ask if your mortgage insurance will be pegged higher than usual because of bad credit.
Approach a lender who specialises in home loans with bad credit.
Complete the application process online. Attach supporting documents such as your ID proof, income statement, list of liabilities and expenses, and list of assets.
Typically, you can expect to hear from the lender within 30 minutes.
If your application is approved, wait to sign the agreement and receive the funds in your account.
Despite there being no guaranteed approvals, here's what borrowers can do to improve their chances when applying for poor credit loans in Australia:
Try to pay off as much debt as you can
When a lender reviews your loan application, they look for the total amount of outstanding debts. This includes your credit card dues and other personal loans. Having too much outstanding debt when you are already struggling with a poor credit score can work against you. It can signal to the lender that you struggle with managing your debts, making them question your repayment ability.
Take stock of your finances and consider whether it is possible to pay off a chunk of the debt before you apply.
Review your credit report well
Any lender extending a home loan with bad credit reviews your credit report to take a closer look at your credit history. If your report has negative remarks, be prepared to discuss them. The inability to thoroughly explain each negative entry can make the lender suspicious.
Ideally, you should get a copy of your report in advance and review it yourself so you can prepare for the discussions.
Don't apply to too many lenders at once
If you are already struggling with less than perfect credit scores, be cautious when you apply for low credit score loans. Each application kicks off a credit check and impacts your credit score. Too many credit checks in a short duration can pull your score further down, adversely impacting your chances of getting approved.
If you find that getting a home loan with bad credit is difficult, here are some alternatives to consider:
A guarantor loan has a third party who steps in as a guarantor and promises to the lender to repay the loan if the borrower fails to do so. This minimises the risk of lending to a borrower with bad credit as the lender can recover the money from the guarantor in case of any payment default.
The guarantor is usually a family member or a friend. The guarantor must have a good credit score and the ability to repay the loan. Depending on the guarantor's credit history, the lender may ask for additional security to be furnished to secure the lending.
If you don't need a home loan urgently, you can also work on credit repair to steadily improve your credit score in the long run. Credit repair includes looking for any genuine errors in your credit report and working on building credit. This will not only help you get your loan approved, but you may also be able to get a better interest rate and loan terms.
ClearScore gives you access to free credit reports in just a few clicks to help you understand how you can improve your credit score and which bad credit home loans you can apply for.
If you are in the market to borrow a home loan but don't have a stellar credit score, bad credit home loans in Australia are a great option you can explore. The eligibility criteria of such loans are much more lenient than traditional home loans, even though they are more expensive.
But before you apply for home loans, make sure to check credit score to better understand your eligibility.
---
Lloyd spreads the word about how awesome ClearScore is.