Check your credit score today
Check your score and get tips to improve it. It's free, forever.
See your score
Minimum credit score for a home loan
How does your credit score compare to the average in Australia? Want to apply for a home loan? Find out how to get a home loan with a bad credit score.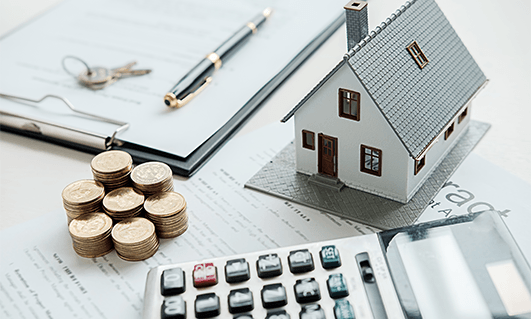 ---
Check your credit score today
Check your score and get tips to improve it. It's free, forever.
See your score
---
Credit scores are more than just a three-digit number you need to know. Your credit score plays a vital role in every financial decision, particularly when you are in the market searching for a home loan. The majority of credit providers use your credit score to make a preliminary assessment about how you will fare as a borrower and whether you will repay the loan on time.
Here's everything you need to know about credit score check for home loan
Credit score for a home loan is an important consideration for any lender. Your score indicates your creditworthiness. A credit provider is keen to lend to a highly creditworthy borrower as such borrowers are less likely to default on repayments.
It is difficult to state what should be your minimum credit score to buy a house since every lender follows its own assessment criteria. Moreover, credit reporting bodies have their own rating scales, and a score deemed 'excellent' by one doesn't automatically mean the same for another. Nevertheless, the rule of thumb is that -- higher your score, the better your chances of getting a home loan.
To better understand how much you will be paying for the home loan, you can also use a mortgage calculator.
In Australia, lenders have differing standards when it comes to credit scores when applying for a loan. This means that there is no standardised credit rating criteria needed to apply for a home loan, however, there is an average that lending providers look for before accepting an application.
Average scores in Australia are usually between 500 to 700, while below-average credit scores are considered unfavourable to some home loan lenders. However, smaller specialist lenders may be willing to provide support.
In regards to different states, the approach to credit score ranges is similar, however, a score that is considered good or bad in Sydney may not be good enough for an area such as Perth or vice versa. Statewide house price falls and rises also play a part in if a loan is accepted or declined.
With these ranges in mind, it may be disheartening at first to know that a lower credit score is difficult to initially get a loan with. Even with a bad credit score, it is still possible to get a loan from providers but this may come at a cost.
As outlined above, a below average credit score is usually less than 624 meaning you are on the lower end of the credit-active population and are more likely to have volatility in the future. It is important to realise that there are ways that you can improve credit score and harmful habits to avoid so don't be discouraged.
Below average - 0-549
Average: 550-624
Good: 625-699
Very good: 700-799
Excellent: 800-1000
Below average: 0-505
Average: 506-665
Good: 666-755
Very good: 756-840
Excellent: 841-1,200
Zero score: 0
A low score: 1-299
Room to improve: 300-499
Average: 500-699
Great: 700-799
Excellent: 800-1,000
With a bad credit score, the first thing to be mindful of is that bigger lenders are extremely unlikely to consider your application due to the volatile nature of your financial history. But just because qualifications for the bigger lenders are difficult to reach does not mean they are not achievable. But remember that a bad credit score does not always mean your application will automatically get rejected. You can still apply for bad credit home loans, even though the interest rate you get might be higher than average.
It is difficult to pinpoint a minimum credit score for home loan in Australia since every credit rating agency follows a different scale. Moreover, since each credit provider has its assessment criteria, the credit score required for a home loan can vary greatly.
Given that credit rating models used by credit reporting bodies are not uniform, you are likely to end up with multiple scores. You may also notice that your score assigned by two credit reporting bodies for the same credit history is slightly different. When you begin your home loan search and wonder what is the credit score to get a mortgage, try not to fuss about an exact number. Focus on falling within a specified range to increase your chances of getting approved.
Having said that, a score above 600 increases your chances of getting approved for a home loan.
Wondering what credit rating do I need for a home loan?
Between 800 to 1000: This is regarded as the top-tier credit score needed for a mortgage and indicates extremely high creditworthiness. You are extremely likely to receive approval for your loan application. Credit providers view you as someone who is extremely unlikely to default on their loan. A score in this range also gives you bargaining power to negotiate favourable lending terms.

Between 700-799: This is a very good score for most credit providers. You may not be as creditworthy as the category above, but your application will be considered favourably.

Between 625-699: A score in this range puts you in a good position. For credit providers, a borrower with a score in this band is less likely to default on the loan.

Between 550-624: This score indicates that you may default within the next 12 months, making you a slightly high-risk borrower. You may get approved for a home loan, but the lender may charge higher interest or ask you to furnish additional security.

A score below 549: You are going to have trouble getting approved for a home loan from traditional lenders. You are considered an extremely high-risk borrower who will default on the loan.
To check your credit score, you can sign up with a credit score provider like ClearScore.
With ClearScore, you get access to free credit reports and you can get your credit score in just a few clicks. Here's how you can check your credit score in Australia for free with the help of ClearScore.
Lastly, as per Australian laws, credit reporting bodies are legally bound to provide free credit reports once every three months. You can request a free copy to check your score.
Credit score in Australia is calculated by credit rating agencies. It is based on the information reported by various credit providers. Credit reporting bodies collate the information and use their proprietary algorithm to assign the final score.
Amount of commercial/consumer credit you have borrowed;
Repayment track record;
Credit inquiries conducted;
Serious credit infringements;
Application for bankruptcy or any other court judgments against debt; and
The weightage assigned to each factor varies across credit rating agencies. For a more comprehensive calculation, credit reporting agencies rely on comprehensive credit reporting (CCR). CCR enables lenders to share both positive and negative customer credit information with credit reporting bodies.
Including more comprehensive data in credit reports makes it easier for lenders to accurately assess a borrower's financial situation.
In case your credit score is below the average credit score for a home loan, you can still be eligible for bad credit home loans. These loans are provided by specialist lenders who do not use credit scores as the sole criteria for lending. They also take into account a variety of other factors and consider every application on a case-to-case basis.
They also charge a relatively higher interest rate and additional fees, making bad credit home loans more expensive than traditional mortgages. However, there is no guaranteed approval that your application will be approved.
To sum up, credit rating for home loan matters. The minimum home loan credit score depends on the eligibility criteria decided by the credit provider you are approaching.
Even if you fall short of the lowest credit score to buy a house, you can still avail of funding by approaching specialist lenders.
ClearScore offers free credit reports and allows you to get credit score in just a few clicks. Take a look.
---
Lloyd spreads the word about how awesome ClearScore is.