Emergency loans for bad credit
Life can be unexpected sometimes. Find out what emergency loans are.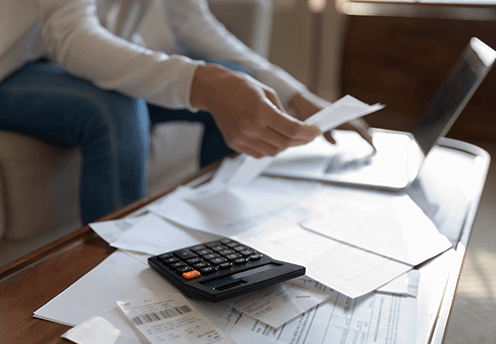 Life can often throw up unexpected situations where you may find yourself in need of extra cash. You may consider borrowing a loan when you don't have adequate liquidity. However, the situation can become far more complicated when you have a less than perfect credit record, as some lenders outright reject borrowers who fail to meet the minimum credit score criteria. Here's where quick emergency loans for bad credit can come to your rescue.
Loans that are available in the market to take care of unexpected personal expenses are known as emergency loans.
Apart from offering loans to applicants with stellar credit scores, some lenders may also extend these emergency loans to borrowers with bad credit history. These loans are known as emergency loans for bad credit.
Emergency bad credit loans in the market can be classified into the following categories:
Personal loans for bad credit can be borrowed to meet any type of personal expense. Your credit rating decides how much you are eligible to borrow through the minimum credit score needed for such loans is lesser than traditional ones.
Usually, these are extended as unsecured loans, but it is also not unusual for lenders to offer personal loans against security, such as real estate or cars.
This is another popular type of emergency loan for bad credit. The interest rate charges are very high, sometimes to the tune of 400%, though the amount offered may not be much. Typically, these loans work as no credit check loans.
While these are instant emergency cash loans where borrowers can expect a swift turnaround and get access to funds immediately, repayment also begins by their next payday. Lenders providing payday loans for bad credit don't review your credit score.
If you need emergency loans with bad credit, you can assign the documents regarding your vehicle's title and ownership in favour of the lender, in lieu of getting a loan. The lender can seize the vehicle in case you default on repayment.
Typically, the borrower's credit score is not considered when reviewing the loan application. Moreover, these work as emergency same day loans for bad credit as a title loan can be approved very quickly. This works as a great option for loans for unemployed as your current income status isn't a determining factor for approving such loans.
Advance against your credit card
When you require emergency cash immediately, your credit card company can extend an advance against your credit card. The APR for such a loan is higher than what's otherwise applicable on your card. The credit card company may also levy additional processing and transaction fees. Interest also starts accruing as soon as you borrow.
Emergency loans help you to pay for unexpected costs and expenses. They are usually unsecured and can be accessed quickly compared to traditional loans. You can fill in the loan application online and receive approval within a few minutes.
Opting for emergency loans for bad credit can be especially useful when you are unemployed as it protects your savings and prevents you from going bankrupt.
The most common end uses of quick emergency loans include:
Rental payments: For upcoming rent or home loan instalments, you can take out an emergency loan to discharge your obligation. Paying your dues on time ensures that your credit score doesn't get impacted on account of default. You can also opt for an Australian government-supported emergency bond loan for bad credit. Such loans do not carry any additional fees or interest and can help those with low credit scores to pay for rental costs and moving expenses. However, such loans are only available to Australian citizens or permanent residents.

Utilities: You can also use the loan proceeds for timely bill payments. When you stay on track with these payments, it ensures that your credit score doesn't get impacted.

Funeral expenses: If you don't have sufficient cash to pay for a funeral after the death of a loved one, proceeds of the loan can be used to cover the costs.

Home repairs: If there are urgent home repairs pending but don't have enough liquidity to meet the expenses, you can borrow such a loan to cover the costs.
Here's what to keep in mind when you compare various offers for emergency bad credit loans:
Check if you can pre-qualify
There are some lenders in the market that allow borrowers to pre-qualify for bad credit emergency loans.
You can submit the details of how much money you need to borrow, your current income, and your credit score to learn how much you are likely to be approved for and on what terms. In most cases, pre-qualification is done through a soft credit inquiry which doesn't pull down your score further. As a result, you can browse through more options before you decide. You can also exclude applying to lenders who have more stringent requirements for extending emergency personal loans.
Consider the purpose of your loan
Before you apply for a bad credit emergency loan, consider the purpose of your borrowing. Even though such loans are available to be utilised for a variety of personal reasons, lenders usually limit that to expenses such as vacations, funerals, weddings, debt consolidation, or home renovation. If you need the money for something else, you may have to specifically get a sign-off from the lenders or apply for specialised loans such as emergency medical loans for bad credit.
Check for additional fees
Most lenders charge additional fees for extending an emergency loan with bad credit. This can include processing fees, origination fees, delayed repayment fees, and prepayment penalties. Make sure to consider this factor when browsing through options, as fast access to cash often comes at a higher cost when you don't have a stellar credit record.
Also, ask your lender whether the origination fee is charged as part of the APR or deducted from the loan amount, as it may directly impact how much cash you actually receive.
Depending on your relationship, you can approach your current bank to check whether they would be willing to offer you an emergency loan. Bear in mind that some lenders may check your credit score even though you may have borrowed from them previously or hold your checking account with them.
You can borrow an emergency loan for bad credit from your credit union account. Since credit unions are community-based initiatives, they are more likely to approve borrowers with poor credit. However, some credit unions may only extend loans to their members. Some may even cap the maximum amount you can borrow to as low as $200.
There are several online lenders who offer emergency loans for borrowers with bad credit history. However, the interest rate charged can be higher than traditional loans from banks, and you may also have to pay hefty processing fees.
If your bad credit is holding you back from getting approved for an urgent emergency loan, here's what you can do:
Go for a secured personal loan
Opting for a secured loan is another option if you don't get approved for an unsecured emergency loan. Since such loans are provided against collateral, the chances of lenders approving your application even when you have bad credit are higher. The presence of collateral minimises the risk of lending. However, if you default on payment, the lender has the right to seize your collateral.
Getting a co-applicant on your loan who has a better credit score can improve your chances of getting fast emergency loans for bad credit. A co-signer acts as a co-borrower who has an obligation to repay the loan in case you default or miss paying the instalment. The creditworthiness of the co-borrower minimises the risk of lending to lenders.
'I need an emergency loan but cannot get approved because of my bad credit score' -- if this sounds like you, here are some alternatives to consider:
If you cannot pay off a current expense since you don't have emergency cash, check whether the vendor is willing to offer a payment plan. Paying in instalments can make it easier to pay your debt without making it too expensive.
If you need a small amount of money, consider using your savings. Although it may not be ideal, your savings can help you get through rainy days. You can always replenish the amount you are borrowing from your savings account to stay on track with your finances.
Ask for an advance payment
Check whether your employer would be willing to extend a loan against your salary. You can agree on an instalment payment plan and pay off a portion of the loan every month. Since your employer won't run credit checks to approve your application, you can keep your credit score intact and work towards improving it so that you can later apply for a loan from elsewhere.
Applying for fast emergency loans for bad credit is always an option when you urgently need liquidity but cannot access traditional financing on account of your credit score. Having said that, boosting your credit score can improve your chances of getting approved in the future when you apply for bigger loans such as a mortgage or a car loan.
---
Lloyd spreads the word about how awesome ClearScore is.