Check your credit score today
Get peace of mind by checking your credit report. It's free, forever.
See your score
Does StepPay affect your credit score
Everything you need to know about CommBank's new BNPL service StepPay and your credit score.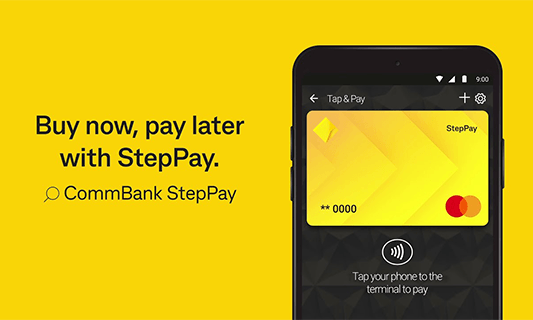 ---
Check your credit score today
Get peace of mind by checking your credit report. It's free, forever.
See your score
---
With the introduction of many Buy Now Pay Later services, customers of financial services may be wondering - how will this affect my credit score? Fair enough too, if you have been working hard to manage a positive credit score you would not want to jeopardise that.
StepPay is CommBank's latest contribution to the Buy Now Pay Later services, available for eligible CommBank customers upon approval.
StepPay divides payments into quarters, to be paid fortnightly, rather than outright. However, it is only available for payments of $100 or more.
These payments are automatic transactions from a designated CommBank account, leaving customers without the stress of managing their repayments, because CommBank does it for them.
When a transaction is made, the first instalment is paid instantly. The following instalments are queued for direct payment each fortnight following the first.
For example, if you make a purchase of $100 on January 10, $25 will be deducted from your account that day, with the automatic repayment schedule being $25 owed on Jan 24, Feb 7, and Feb 21.
If a transaction less than $100 is made on StepPay, CommBank will deduct the full amount from the cardholder's account.
StepPay has a $0 monthly fee, with no interest, and no international transaction fees. CommBank also offers eligible cardholders rewards, including cashback and personalised rewards based on past purchases, and similar recommendations.
StepPay can be used through the CommBank app or digital wallet, without a physical card.
StepPay is accepted by all retailers, in-store and also online, as long as Mastercard is accepted.
For example, CommBank customers can use StepPay with their favourite major merchants such as JBHIFI, Bunnings, K-Mart, Target, David Jones, and Myer.
The accessibility and convenience of StepPay is incentivising for CommBank customers who want to consolidate their finances, and not rely on third-party organisations for repayment schedules.
This is disadvantageous for individuals who rely on a good credit history for future loan applications, and other instances where they need to provide evidence of a positive credit history - such as Centrelink applications. You can check your credit history or generate a free credit report with ClearScore.
However, StepPay can positively affect credit history by demonstrating ability to repay on time. This is advantageous for those with a positive credit history who want to expand on that.
CommBank undertakes 'standard credit checks' when eligible customers apply for StepPay. This is to ensure that StepPay is a viable option for customers to utilise, taking into account the individual's financial situation and likelihood of meeting repayments.
When the credit check is undertaken, CommBank will determine the individual's spending limit for their StepPay account. The limit can be anywhere from the minimum $400, to the maximum $1,000.
Credit checks are beneficial because CommBank needs to make sure their customers can indeed pay off their purchases on time, maintain a good credit rating, and keep their finances on track.
If customers have a history of late payments, excessive credit loans, or a bad credit score, they are unlikely to be approved for StepPay. While this may seem harsh, it is for the benefit of the customer to not overspend where they cannot afford to.
Using StepPay does not necessarily improve your credit score, however it is beneficial because it generates a credit history. Having a positive credit history is important when individuals apply for loans, such as significant investments like property.
Effectively demonstrating credit management can show financial institutions your reliability, leading them to more likely approve any future applications made.
If you have a credit history and good credit score, managing your StepPay finances on top of this adds to your reliability as a financial institution customer.
When using a Buy Now Pay Later repayment system, there are usually no interest fees or added costs involved. The only added costs associated with these repayments are fees for late repayments, which are often around $10.
StepPay is beneficial for customers who do not want to pay extra fees for having a credit card, especially if they will not be using the Buy Now Pay Later service frequently. Perfect for occasional use, StepPay is flexible and convenient without the commitment of a credit card.
When purchasing on credit, depending on your financial institution's offerings, you will be required to pay back the amount in full plus interest. Interest rates vary from credit plan to credit plan, therefore the overall price paid changes. This can decentivise individuals from purchasing on credit, as the entire costs will need to be self-managed too rather than the automatic repayments.
Credit cards do have interest-free periods, however StepPay is more attractive to customers because of their entire interest-free program.
There are various alternatives to StepPay, with many offerings outside of traditional financial institutions.
| BNPL Platform | Do they run a credit check? | Are there any monthly fees? |
| --- | --- | --- |
| | Afterpay does not run credit checks on applicants. However, they reserve the right to run credit checks and report activity to credit bureaus at their discretion. | Afterpay does not charge monthly fees, only late fees. |
| | Humm performs a credit check when you apply for purchases larger than $2000. | Humm charges a $8 monthly fee for all 'Big things' purchases and 'Little things' purchases if you choose to repay over 10 fortnights. |
| | Klarna does not perform a credit check when you sign up, however Klarna has stated that "we may report information about your order to credit reporting agencies". | Klarna does not charge monthly fees, but they do charge late fees ranging from $2.50 - $15. |
| | Affirm performs a soft credit check of an applicants' credit history, which does not directly impact your credit score. This also won't show up on your credit report. | There are no monthly fees to pay when using Affirm. Instead you will be expected to pay the interest on the loan you take out. |
| | Zip performs a credit check when you apply for one of its products. | Zip charges a $7.95 monthly account fee. However, Zippay waives this fee if you can pay your closing balance in full. |
| | LatitudePay will assess if you have a healthy credit score by doing a 'soft' credit check, which does not directly impact your credit score. This also won't show up on your credit report. | There are no monthly or hidden fees when using LatitudePay. However, there are late fees of $10 for every payment missed. |
---
Lloyd spreads the word about how awesome ClearScore is.