View your personalised offers
See what offers you are eligible for without impacting your credit score
See your offers
Why is ClearScore different? We choose the products most relevant for you.
Ever wondered how ClearScore chooses which products to recommend? We explain how we do things differently and how this can benefit you.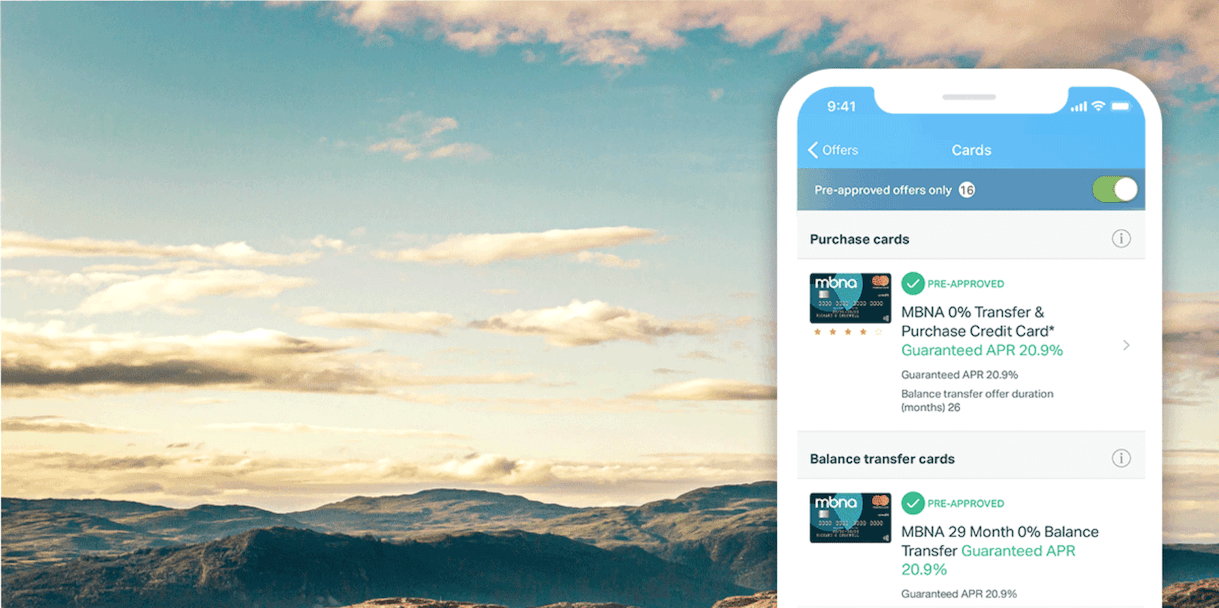 ---
View your personalised offers
See what offers you are eligible for without impacting your credit score
See your offers
---
When it comes to credit products, one size doesn't fit all. At ClearScore, we search the market to find the offers most relevant for you.
All of the offers you see on ClearScore have been selected because of your credit history. Because, if you're a ClearScore user, you'll automatically connect your credit file information to your search, which not only saves you filling out tons of paperwork, but also enables us to provide you with only the most relevant options to your current status.
In short, you're not going to spend hours looking for the right solution; instead, you can feel confident that we've found you a list of options that accurately match your needs.
The important pieces of information we use:
your current borrowing behaviour
your likelihood of acceptance (calculated using your credit report and the information you've given us)
the APR (Annual Percentage Rate)
promotional terms, such as the length of a 0% deal
We use this information to present only the most practical options to you.
If you're new to the world of credit (or perhaps have a low credit score), we'll suggest the best 'credit builder' products for you that could help improve your score over time.

If you spend regularly on a credit card and pay it off on time every month (which is great best practice), we can calculate your potential earnings and then present a particular range of cashback cards that benefit you.

If your credit history shows that you are carrying a balance regularly on a credit card, we can then calculate the saving you would make if you switched to a different offer and transferred the balance.
What's essential to remember is that the importance of each factor will vary, depending on your particular circumstances. For example, if you have a damaged credit file, your likelihood of being accepted for a particular product (eligibility score) is of especially high importance.
For many products, we show you an eligibility score which tells you the likelihood you have of being accepted. Some offers are even 'pre-approved', which guarantees you'll be successful in getting a particular offer, so long as the information in your ClearScore is correct (subject to the lender's own fraud checks). Once you're aware of pre-approved offers, you're able to make an informed choice about whether to make an application.
Our Triple Lock guarantee is key to improving that confidence when you apply for credit. We use your credit report to make sure the deal you see is the deal you'll get. You'll get a guaranteed credit limit, guaranteed rates and you'll even be pre-approved. So you can be 100% certain you'll be accepted.
We use 'soft searches' to generate your eligibility, so you can browse as much as you like without harming your credit score.
We have established partnerships with a huge variety of lenders in order to bring you market-leading offers.
Some of these deals are even exclusive to ClearScore customers. These are shown as 'Exclusive' in your Offers so you can clearly identify them.
We partner with the UK's leading lenders to show you offers you can trust. They range from new, innovative companies to the most recognised brands who offer a variety of products.
We use live eligibility scoring to show you how likely you are to be accepted for a product, even if your new report isn't due for a while.
In a nutshell
Your offers are sorted by what's relevant for you, not what's best for our pockets
See how likely you are to be accepted before you apply
Browse your offers without harming your credit score
Get access to market-leading offers and exclusive deals
View a wide range of leading lenders that you trust
Every time you view offers, see fresh results and eligibility scores based on up-to-date information
---
Anna connects ClearScore with millions of users, fulfilling our mission of helping everyone get clear on their money. When she's not busy talking to customers she's on yet another mini-break or doing headstands.